Taking the N1 north out of Cape Town is always a bit of a treat. Granted, the first few kilometres can be a challenge, with normally dense urban traffic raised to near chaos level by seemingly permanent road works. But then round about the 30km mark something magical happens – malls and suburbia make way for tranquil countryside with almost dizzying speed. In the distance the Du Toitskloof mountains beckon with crystal blue skies overhead and the marvellous Paarl wine region at its feet.
There are many fine producers in this premier South African wine appellation, but one of my favourites is in the Agter-Paarl. (Literally meaning 'behind' Paarl). Here, at the foot of the Paardeberg Mountain – named after the Cape zebra that once roamed the region – you'll find Perdeberg Wines.
Now if you've ever cast an eye over the wine shelves of pretty much any South African supermarket, you're probably already familiar with the Perdeberg Classic Range and its charming zebra-inspired bottle design. It's one of my go-to everyday, easy-drinking wine choices – their Shiraz and Merlot especially putting in regular appearances at my winter dinner table.
But Perdeberg Wines is about so much more than good-value everyday wines. Some years ago their focus expanded to also include premier wines, and the accolades are rolling in. A recent invite to come visit allowed me to taste just how special their wines are and see what they've been up to.
On arrival we were greeted with a glass Perdeberg Méthode Cap Classique bubbly. 100% Chenin, it dances on the tongue with that typical biscuity finish I so love in a good bottle-fermented bubbly. Perdeberg are indeed masters of Chenin, producing numerous examples of this cultivar across all their ranges.
Tasting their top-tiered The Dry Land Collection Barrel Fermented 2015 Chenin (a winner in the 2016 Standard Bank Top 10 Chenin Challenge) was a wonderful privilege. So too was tasting Chenin straight out of the barrel in their impressive barrel cellar. (Which incidentally you can rent for functions.)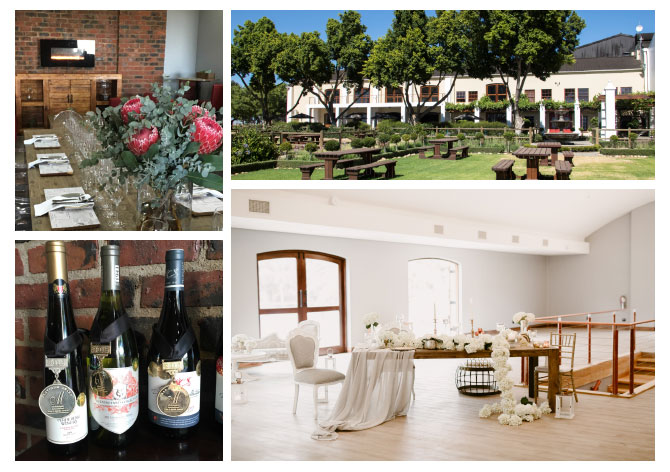 Perdeberg wines: So much to offer – a lovely wedding venue, a conference venue, a party venue and… very fine wines.
A lovely five-course tasting menu (prepared by Two Chefs catering) followed. We feasted on butternut soup paired with Perdeberg's Vineyard Collection Grenache Blanc 2015. I fell a little bit in love with this wine with its full peach and stone fruit nose and wonderful lingering fruity palate. Being part of their Vineyard Collection, this is a mid-tiered wine and currently retails online at R92 a bottle. It is very definitely on my white wine must-buy list.
Next up was pan-fried rosemary-infused potato gnocchi with shitake mushrooms and a sage beurre blanc. Yip folks, what can I say, I suffered much. It was paired with the award-winning The Dry Land Chenin mentioned earlier.
A very prolific grape, Chenin can be a nastly little beast when grown indiscriminately and treated without care. But when treated like a precious princess, this variety is a true gem and the Dry Land Chenin 2015 is a treat really worth putting your hand in your pocket for. Online price at time of publication is R114 and I consider this truly phenomenal value for a seriously premier wine. Christmas is coming and if you have white-wine lovers in your family – hint, hint…
Next up was ostrich and wild mushroom potpie served with the Vineyard Collection Malbec 2015. Yum. I no longer really had space, but it didn't matter because I couldn't refuse the slow roasted lamb rib with garlic puree and salted caramel pumpkin fritter. Oy. The wine served with it – their Rex Equus 2014 – all but blew my socks off. This is not really for sale and according to our charming hosts we were the first media crowd to get a taste of this incredibly complex red beauty. But it made the point rather forcefully that Perdeberg has now firmly established itself as a premier producer.
The tasting menu ended with a white chocolate and pistachio mousse thingy with a citrus curd and other stuff. Honestly I was beyond noticing because I had had what my mum used to politely call an elegant sufficiency. But I did have space to appreciate the The Dry Land Collection Natural Sweet Chenin Blanc 2016 served with it. I didn't have to drive back to Cape Town. I was grateful.
So what's the bottom line here? If you live in Cape Town or visit and are interested in a very wide range of truly fine wines at exceptional prices, Perdeberg Wines should be one of your stops. And if you don't live here and don't plan to visit, order online and discover a Paarl wine region treasure.
FAST FACTS:
Perdeberg Wines has 3 wine tiers: the pocket-friendly Classic Collection you'll find in most supermarkets; the mid-tiered Vineyard Collection; and the top-tiered The Dry Land Collection. The latter two are available online and at select boutique wine stores countrywide.
It is a multi-purpose function venue too and is wonderfully equipped for weddings, cocktail parties, conferences, kiddies parties etc.
It offers great wine and craft beer tastings as well as kiddie-friendly marshmallow and milk tasting options in its lovely new tasting room. Paired tasting offerings change all the time, especially as the seasons change, so contact them and find out what is on offer when you want to go. BOOK!
About this article: I only write about places and things I actually really like. Should I receive complimentary meals/tickets/diamonds, this will always be revealed. I'm not in the rubbishing business, so if something is not my cup of tea, I'll simply not write about it (but I'll keep the diamonds). Therefore this is not so much a review, as a personal recommendation of places and things I really like.

Print this recipe