Folks often ask me to recommend Cape wine estates to visit. Places that offer good wine in a lovely tasting environment, PLUS good food, PLUS preferably something else on top of all that. We are of course spoilt for choice, but Franschhoek's Anthonij Rupert Wines is one that I often suggest because, after numerous visits, I know that a good experience here is pretty much a sure thing. So when I was recently invited to come sample their winter 2019 Terra del Capo Antipasti Bar menu, naturally I was dead keen.
I adore, but simply adore the antipasti way of eating because I suffer from a condition most women are familiar with – wanting to taste absolutely everything on everybody else's plate. So a selection of smaller dishes paired with wines that are just perfect, is right up my street.
Welcoming, elegant and just a bit glam: The dining area at Terra del Capo is separated from the wine-making operations by a glass wall, making for lunch and a show!
Their antipasti menu is a careful selection of quintessentially Italian dishes utilizing local in-season fare. First up was a beef brodo (that's fancy Italian for a broth) with teeny salsiccia (Italian sausage) meatballs. It was intensely beefy and soul satisfying, just perfect for starting a winter meal.
The local smoked salmon trout came to the table in a dome of smoke for a bit of fun food theatre. Dressed in a gremolata crème fraiche with preserved lemon and watercress, it was a fresh and light delight. For my veggie fix I had superb Porcini mushrooms that smacked of deep forest with sharp Parmigiano Reggiano. Oy.  I've never considered myself a tartare sort of person. But I could write sonnets about the venison tartare that was served with truffle vinaigrette and a raw quails' egg. Seriously, sonnets.
I didn't try the mini burrata complemented with artichokes, capers and pine nuts, but am assured it's a crowd-pleaser. For lovers of red meat, there is lamb loin with lemon and mint pesto, plus of course the estate's famous Black Angus beef. There's loads more… like slow-roasted marrow bones; mini lasagnas and truffled polenta chips served with truffle aioli. This is food that's carefully considered but fun, and it's how I want to eat following a lovely wine tasting.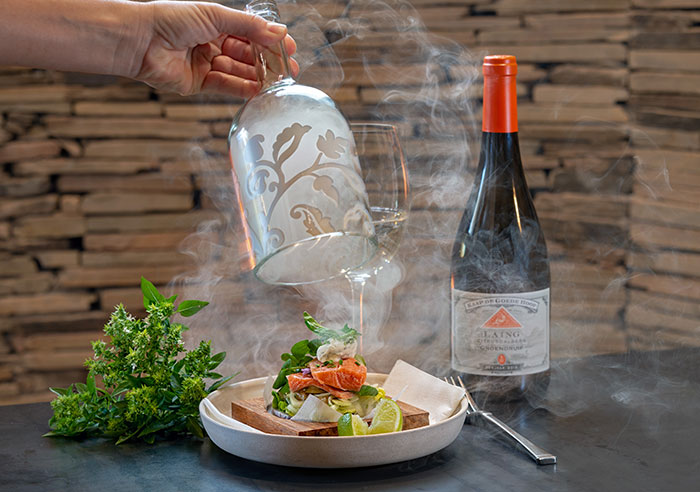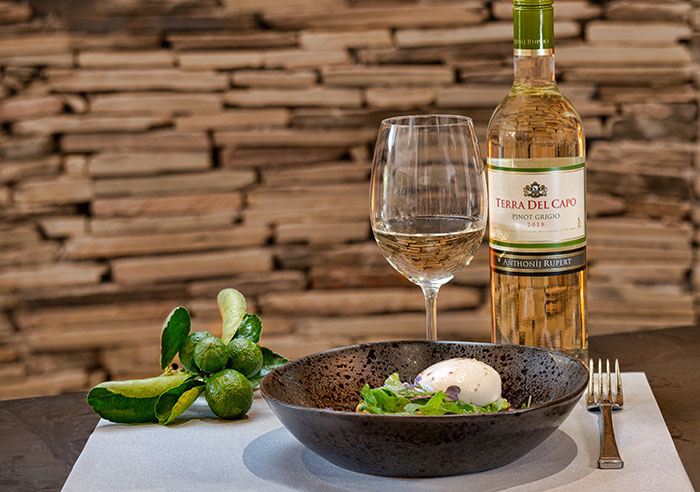 Talking of truffles, Anthonij Rupert has also just had their maiden truffle harvest! The first wine estate in South Africa to both cultivate and produce black Perigord truffles, these delicacies are grown at their Altima Estate near Villiersdorp, where the cool-climate conditions are ideal. Oak tree roots were inoculated with truffle spores and planted way back in September 2010 and this winter, at long last, their truffle hunter (aka Trufelau – honestly, there is such a thing!) Hanene van Dyk finally got to put her specially trained Lagotto Romagnolo dogs to work hunting for the truffles. Truffle season is short, but the canine darlings are kept sharp year-round by playing hide-the-truffle-find-the-truffle every single day.
And now, thanks to their efforts, the kitchen at Anthonij Rupert also offers a limited-period Truffle Lunch menu in which four courses – naturally all showcasing truffle – are paired with their Cape of Good Hope Wines, produced from the vineyards which frame those oak forests at Altima. (If you want to go one step further, the estate can be contacted directly to arrange an exclusive tour and truffle hunting experience at Altima.)
When all is said and done, you may just have the energy for that something else they offer. If so, head on over to the Franschhoek Motor Museum, which is just a short tram ride away on the estate. With an astonishing collection of luxury and vintage cars on display, it's a fascinating and fun thing to do – even if you're not a petrol head!
The Terra del Capo Tasting Room and Antipasto Bar are open from Tuesday to Sunday (10am to 4:30pm), but pre-booking is essential as this is a relatively intimate dining experience. The antipasti menu is seasonal of course, so come spring there will be new delights.
The four-course, truffle-inspired lunches will be available every Friday and Saturday only, and only until 20 July 2019. To ensure an exclusive dining experience, each luncheon will be kept to a maximum of 10 people.
For more information and reservations contact tasting@rupertwines.com or phone 021 874 9041. (Images kindly supplied by Anthonij Rupert.)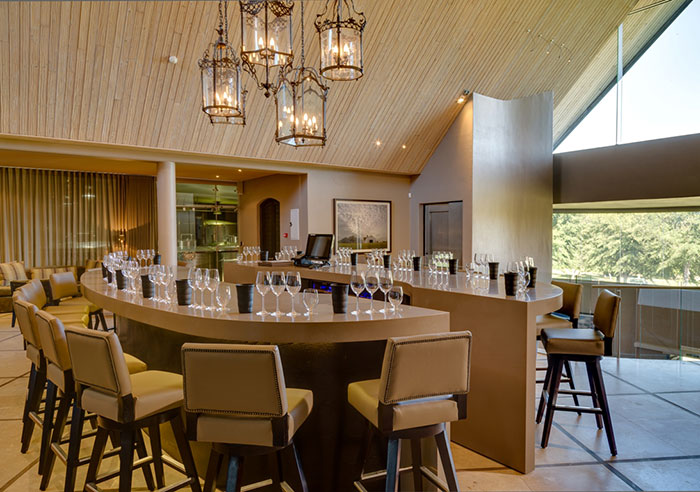 Wine tasting at Anthonij Rupert: The Terra del Capo tasting area is sleek, sophisticated and welcoming in shades of cream. The downstairs shop now offers truffle salt and butter from their first-ever truffle harvest.
About this article: I only write about places and things I actually really like. Should I receive complimentary meals/tickets/diamonds, this will always be revealed. I'm not in the rubbishing business, so if something is not my cup of tea, I'll simply not write about it (but I'll keep the diamonds). Therefore this is not so much a review, as a personal recommendation of places and things I like.

Print this recipe