The best laid plans of mice and men… I had a starring role in things going contrary to scheme this past weekend.
I'd been contemplating a nice little beef and Guinness pie for a while. The Guinness had been lurking in my fridge for at least a month, but I just didn't get around to posting it – what with things like bobotie samoosas and singing Cadbury babies getting in the way.
Last Friday I decided it's finally time – time for a rich, thick beef and Guinness pie filling, topped with an all-butter puff pastry piecrust that melts in the mouth. And then Saturday came, and with it 25 degree Celsius weather. In mid winter. In Cape Town. Sunday dawned… and shot up to 28 degrees. I saw my legs and my feet for the first time in three months. Many adjectives come to mind, none of them flattering. Clearly eating rich pie for dinner was not an option. So I made a mid-flight adjustment. I turned it into a stew and replaced the rich piecrust with feather-light dumplings packed with herbs hinting of spring.
All you need is…
For the stew
800g stewing beef, cut in blocks
olive oil, for frying
2 brown or white onions, finely chopped
1 garlic clove, finely chopped
2 heaped tbs cake flour
1 tsp tomato paste
300ml Guinness beer
200ml water
1 bay leaf
1 beef stock cube
generous pinch of black pepper
6 sprigs fresh thyme
250g carrots, peeled and cubed or left whole if they're small
For the dumplings
125g self-raising flour
50g butter (I prefer 25g lard and 25g butter)
¼ tsp salt
1 tsp fresh thyme, chopped
2 tbs parsley, chopped
3-4 tbs water
Brown the meat in batches in 3 tbs olive oil. (Don't add the lot at once as it will stew instead of brown.) Remove meat and set aside. Add the chopped onions to the same pan along with another tablespoon of oil if needed and fry gently over low heat for 5 minutes. Add the garlic and fry for a minute. Stir in the flour and fry for 20 seconds. Stir in the tomato paste and fry for a further 20 seconds. Return the meat to the pan along with any resting juices. Add the water and the Guinness and stir to lift all the caramelised bits off the bottom of the pan. Add the rest of the stew ingredients, cover and cook over  low heat until the meat is super tender – 90 t0 120 minutes depending on the cut.
Once the meat is done, the dumplings can go in the pot. To make the dumplings, place the flour, salt and butter in a food processor and blitz until the mixture resembles crumbs. Add the herbs and 3-4 tbs water and pulse until a firm dough ball forms (it only takes a few seconds). You can do all this by hand if you do not have a food processor. Divide the dough into 8 equal-sized pieces and roll into balls. (Dust your hands with some flour to prevent the dough sticking.) Place the dumplings on top of the stew, cover and cook over medium heat for 25-30 minutes. Serve immediately with some lovely green peas.
tips, tricks and trivia
More ideas for this recipe
To turn this stew into a pie, leave out the dumplings and replace them with an all-butter puff pastry piecrust (Woolies stocks butter puff). Simply spoon the stew into a shallowish pie dish and let it cool to room temperature. Cover with the puff pastry, crimp the edges and make a slit or two in the pastry for the steam to escape. Bake at 180 degrees Celsius for 30 minutes.
I think this stew will also be excellent with orange sweet potato mash.
enjoy with
I'm no Homer Simpson when it comes to beer. Show me a glass of vino and I am happy. But with this stew I think beer is the answer. As much as I like how the Guinness transforms during cooking, I find it a bit hard going as a drink. So with this I'd opt for a slightly sweeter 'blonde' beer. Go for something different to your normal Saturday-avie-rugby-with-the-blokes Castle.
Try a local craft beer from the Cape Brewing Company, Darling Brew or Jack Black. Check out League of Beers. It's a cool site that sells both South African and foreign craft beers.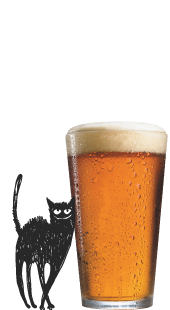 Print this recipe