My gran didn't mess around with produce. Like any halfway-decent farmer's wife, her pantry was loaded with things preserved in giant Consol bottles. I seem to remember (not fondly) that at least half of it was beetroot.
Preserving it in vinegar was the only culinary game plan. You couldn't pay me to eat it as an 8-year old. Fortunately I cottoned on a few decades later. They're a marvellous earthy wonder and so good for you, you probably add three years to your life just looking at them.
Raw in salads, roasted, in soup and, yes, even in vinegar (for I've made my peace) – I just love them.
So I had a 'what if' kitchen moment. What if I combine them with carrots and turn them into fritters? I add coriander, cumin and chilli for spicy warmth. And I serve them with extra thick, creamy tzatziki. Yum.
This recipe makes a vegetarian main for two. If hubby grumbles and you're in the mood to oblige him, serve it with lamb, chicken or beef. As a side dish it will serve four. Enjoy!
All you need is…
For the tzatziki
1 cup thick, double cream Greek yoghurt
¼ English cucumber, washed
½ tsp garlic, crushed (you can use a bit more, but I find raw garlic quite aggressive)
1 tbs dill, finely chopped
1 tbs mint, finely chopped
salt and black pepper
For the fritters
3 large carrots, washed and peeled
2 beetroots, washed and peeled
½ tsp whole cumin
1 tsp whole coriander
½ a red chilli, seeded and finely sliced (I'll say 'optional', but I don't really mean it!)
1 egg
3 tbs cake flour
¼ tsp salt
olive oi
Make the tzatziki first. Grate the cucumber. Place it in a clean cloth, twist and squeeze like crazy to remove as much liquid as possible. (If you don't, your tzatziki will be thin and watery instead of thick and creamy.) Mix the cucumber with the yoghurt, garlic, dill, and mint. A pinch of salt and a grinding of black pepper and you're done. Place it in the fridge to give the flavours time to get to know each other.
Roast the coriander and cumin seeds in a dry pan for a minute or two. As soon as you can smell the spices, they're ready to come off the heat. Crush them in a pestle and mortar. (Whole spices you roast and grind yourself are just so much better, but if you only have pre-ground spices, use them.)
Grate the carrot and beetroot (use the coarse side of the grater) and add them to the spices, chilli, quarter teaspoon salt, egg and flour. Mix and shape into patties. Fry in olive oil until cooked through and crisp on the outside.
Serve immediately with the cold tzatziki. The contrast in texture and temperature is just lovely. I love serving mine with watercress kissed with lemon, a drizzle of olive oil, salt and pepper. I add nasturtium petals (nicked from the side of the road) just for the pretty. It's summer on a plate!
good to know
Tzatziki with… well, pretty much anything!
Dill and mint in tzatziki is not traditional and you can leave it out.
Either way, tzatziki is one of those kitchen marvels that can turn an okay-ish meal into a bit of a show-stopper.
I serve it with lamb chops, roast chicken, with feta on burgers for a Greek vibe, or as a dip with raw vegetables. If I'm hungry and in a hurry, I toast a pita pocket, stuff it with tomatoes, cucumber, red onion, lettuce and feta. Drizzle the lot with tzatziki and I'm happy as a pig in the proverbial.
enjoy with
You can serve a Sauvignon Blanc, but this is quite a feminine dish, so I'm keeping with my red/pink theme and opting for a rosé. I prefer mine dry.
Delaire Graff's rosé (made from Cabernet Franc grapes) is perfect.
Lovely and zesty, with a gorgeous salmon colour, it's excellent value for money at under R55 a bottle. Another favourite is Domaine Grier's French Rosé. Get it at Woolies, it's just shy of R60.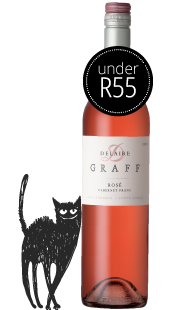 Print this recipe