I love the transforming power of words – how just a few syllables can make things seem fancy and make you want them more. Take handbags. Say Vuitton and we go 'ooh'. But if you think about it, it really is just a bag – somewhere to keep your cell phone and lippy, and the place where those nasty complimentary after-dinner mints go to die.
And so it is with food. The Italians call this a crostata. That sounds mighty impressive. The French call it a galette. Even better. They have such a way with words, those clever French. But really, all of this is just a fancy way of saying the 'easiest- pie-ever'.
If you're a pie-o-phobe and the thought of working with pastry makes you want to run for the hills, this pie recipe is for you. No blind baking, no mucking about with lining tins, no crimping. You just roll out the dough, stuff it full of fruit, fold over the edges (the more rustic, the better) and shove it in the oven on a baking tray. Forty minutes later you have flaky-light buttery pastry encasing bubbling, syrupy, jammy, fruity awesomeness. On the minimal-input/maximum-output meter, this one is a top scorer.
You can use basically any fruit you want. I made this one with Granny Smith apples, some frozen blackberries and almonds. And I served it with a citrus Crème Chantilly. That's just fancy for sweetened whipped cream with a touch of brandy and some orange zest. But doesn't Chantilly just sound ever so much better?
All you need is…
For the galette
2 cups cake flour (230g)
175g cold butter, diced into cubes
½ tsp salt
8 tbs ice water
1½ cups frozen (or fresh) blackberries
3 Granny Smith apples
half a lemon
third of a cup light brown sugar
¼ tsp cinnamon
small pinch of cloves
2 tbs flour
2tbs light brown sugar
1 egg yolk thinned with 2 tbs milk
¼ cup of almonds, toasted and chopped
For the Chantilly Cream
1 cup (250ml) cold fresh cream
2 tbs icing (powdered) sugar
1 tbs brandy
finely grated zest of one orange
Preheat your oven to 200 degrees Celsius. Put the two cups of flour, the salt and the butter in your food processor and pulse until you have blobs of butter the size of peas. Now add the water a tablespoon at a time and briefly pulse after each addition. Do not over-blend this as you want sizeable pieces of butter in the dough at the end and the mixture must still look crumbly. Tumble it out on some cling wrap and gently press to bring the dough together into a ball. Take care not to overwork the dough. As soon as it forms a ball, wrap it in the cling film and put it in the fridge for 20 minutes.
In the meantime peel and dice the apples into pieces roughly the same size as the blackberries. Squeeze the half a lemon over the apple pieces and toss through so everything is coated. Just before you remove the dough from the fridge, sprinkle half the sugar over the apples along with the cinnamon and one tablespoon of plain cake flour and toss through. In a separate bowl add the remaining half of the sugar, the other tablespoon of flour and a very small pinch of cloves to the blackberries and toss through.
You can roll the dough out and assemble this galette on your work surface, but once it's filled with fruit, it becomes heavy and I find it's difficult to lift without breaking. So I prevent this by rolling my dough out and assembling my galette on a large piece of baking paper.
Simply place the dough in the middle of the baking paper and use your hands to press it slightly flat. Then use a flour-dipped rolling pin to roll it out to a circle 5mm thick. Tumble the apples and the blackberries on the pie, leaving a 5cm edge all around. Now fold this edge over the fruit. Lift it, baking paper and all, and transfer it to the baking tray. Paint the pastry with the egg wash and then sprinkle it liberally with 2 tbs of brown sugar.
Bake it for 35-45 minutes until the apples are cooked through and the pastry is golden brown. Remove and place on a cooling rack. Try to slide the galette off the baking paper at this point so the bottom is in direct contact with air as it cools. Tumble the almonds over just before serving. I like serving this ever so slightly lukewarm, but room temperature is fine too.
To make the Chantilly cream, add the cream and icing sugar to a bowl and whip until firm. Add the brandy and zest towards the end and blend through.
tips, tricks and trivia
More galette fillings
Apples with pecan nuts and raisins
Apricots with a dab of apricot jam for extra awesomeness
Plums
Figs and pistachio
Strawberries and blueberries
enjoy with
Cooking with brandy is like cooking with wine, you can't use rubbish and think it won't show. Price also matters.
So what's my choice for cooking with? KWV's 3 or 5 year old brandy. As a naughty tipple with this pud, serve some of their 15 year old – neat, naturally.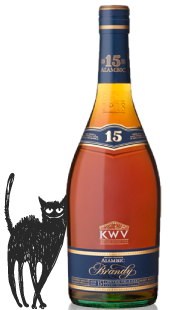 Print this recipe