Cats, sadly, do not tolerate lazy lie-ins hy humans, not even on weekends. Which is rather surprising, given that they sleep away something like 80% of their lives. No matter what time I poured myself into bed or how fragile I may be feeling, come 6am on Saturdays, it's showtime.
Let Me Out. Cuddle Me. Feed Me. In that order. Deviation or non-compliance is punished with piercing yowls and occasional swatting. Merlot doesn't take prisoners.
There is an upside to all this early-morning bullying – I get my shopping done before the hordes descend. First stop is the Old Biscuit Mill in Woodstock, where wonderful Amiena stocks everything I could possibly want, from fresh turmeric to double-yolk eggs.
It was on one such foray that I got my hands on the first broad beans of the season. Also known as fava beans (and much admired by Hannibal Lecter), they herald warmer days. I combine them with peas, cucumber and truckloads of mint in a gorgeous spring-fresh salad.
All you need is…
1 packet mixed salad leaves (this is a pretty, feminine little salad, so go for smaller leaves if possible)
1 English cucumber
2 discs of feta
1 cup mint leaves (torn in half if they're very big)
1 cup frozen peas
1 cup broad beans (if you can't find broad beans, simply double up on the amount of peas)
2 spring onions, finely sliced
3 tbs extra virgin olive oil
2 tbs lemon juice
pinch of salt
pinch of freshly milled black pepper
Pour boiling water over the frozen peas and set aside for a minute to defrost. Drain peas. Split open broad bean pods and remove beans. Pour boiling water over beans and leave for 30 seconds. Drain beans. Now remove the rubbery white outer layer of the broad beans (it tears easily, no knife required). Nestled inside is a delicious emerald beauty that tastes of spring. Use a vegetable peeler to cut long ribbons of cucumber. Tumble the salad leaves onto a beautiful, shallow salad platter. Add the peas, cucumber, mint leaves, spring onions and broad beans. Crumble over the feta cheese. Mix the olive oil, lemon juice salt and pepper and pour over the salad just before serving.
National Braai Day is around the corner! If you're thinking of lamb chops for this, our most sacred of national holidays, this salad is a must-have to serve alongside.
good to know
5-minute broad bean paté
Broad bean season is short, so I make the most of it when I can find them. To whip up an instant paté (using the same ingredients mentioned in my spring salad) simply blitz together a cup of blanched, peeled broad beans with a half cup of feta cheese, 3 tbs olive oil, 2 tablespoons fresh lemon juice and the green part of a spring onion. If it's too thick for your liking, add a few tablespoons of water.
Top crisp, garlicky bruschetta with cucumber ribbons and spoon over a blob of broad bean paté. Place a small mint leaf on top, give it a grinding of black pepper and you have a pretty elegant little pre-dinner snack.
enjoy with
Semillon is often used as a blending partner to add a bit of complexity and richness to a Sauvignon Blanc. I love it on its own as well and one of my top-value favourites is Ormonde Private Cellar's 2010 Ondine Semillon.
It's perfect with salads containing cucumber and mint and goes down well with pre-dinner snacking on green olives. Ormonde is in the Darling district. Their vineyards benefit from the cooling fog of the nearby Atlantic, which gives this wine a wonderful acidic vibrance with loads of green grass, lime and apple notes.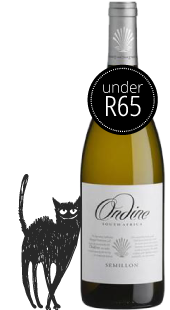 Print this recipe