There are ping-pong balls secreted away under every bed, chair, cupboard and couch in my house. Do I have a fetish? No, I have a cat. Which means soccer games at odd times, day and night, up and down the passage. The floors are wooden. The racket is frightful. The excitement is fever pitch.
I can identify with this kind of excitement. Not over ping-pong balls of course, that would be weird. Over food, because the thought of playing with new recipes makes me just a little bit moggy. And so it was when Spekko gave me a hamper of their rice to play with. Jasmin rice, Basmati rice, Saman white rice. Ooh boy.
First up though, Spekko's brown rice. My initial thinking for this started in the tabbouleh space. Something packed with tomatoes and herbs, but instead of the traditional bulgur wheat, I'd use rice. A fine idea to be sure, but a bit predictable. So I kept the herbs but nixed the rest, adding feta and raw beetroot instead. A few pomegranate rubies and figs go on too and I dress the lot with a tangy olive oil and lemon vinaigrette with chilli cheek. Add some edible flowers and you have yourself a gorgeous girlie-pretty salad with a wicked flavour punch.
All you need is…
1 cup uncooked Spekko brown rice
½ tsp salt
2 cups water
cup of fresh mint leaves (20g), chopped
heaped cup of Italian flat leaf parsley leaves (35g), chopped
1 mild red chilli, deseeded and finely chopped
6 tbs extra virgin olive oil
3 tbs fresh lemon juice
1 clove garlic, minced
two rounds of feta cheese (100g)
1 English cucumber
1-1.5 cups of julienned raw beetroot (Woolworths sells handy small packets of it)
3 figs, quartered (optional)
¼ cup pomegranate seeds
edible flowers (optional)
Cook the rice with ½ teaspoon salt in 2 cups of water until done. Allow to cool completely. (Leftover rice works a treat here). Add the herbs to the rice. Whisk together the lemon juice, olive oil, chilli and garlic. Drizzle half of it over the rice and herb mix and toss through to coat.
Tumble the rice on a large platter, crumble over the feta and the beetroot and mix in gently, taking care not to break up the feta too much. Use a vegetable peeler to peel half of the cucumber lengthways. Artfully arrange the cucumber ribbons on the platter, and dot with the figs and the pomegranate seeds. Pour over the rest of the lemon-chilli vinaigrette. Dress with edible flowers if using.
tips, tricks and trivia
More recipe options
* Add some chopped pistachios.
* Leave the chilli out if preferred.
enjoy with
My choice with this is the De Krans maiden vintage Pinotage Rosé 2016. The wine is made from 100% Pinotage grapes grown at De Krans. The grapes are only used for the Rosé and are picked earlier than the other varietals to ensure optimal freshness and a lower alcohol level of just 12.5%. On the nose you'll find fresh strawberry, ripe cherry and raspberry along with a whisper of watermelon.
On the palate it's dry with a mouth-watering fresh acidity. This wine retails at the R59 mark.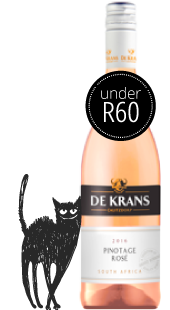 Print this recipe