I had something else entirely planned for this post. And then I stuffed up. Royally. Yup folks, the hot news of the week is my brand new recipes don't always work out. Shock, horror.
I'm comforted by the fact that I'm not alone. If it can happen to a contestant on the UK's Masterchef: The Professionals (now showing on DSTV channel 174), who am I to expect a 100% strike rate? Though the chap who tried to make rice pudding with quinoa really ought to have known better. Disconcertingly grey-purple, it looked a bit like the surprise parcels my cat sometimes leaves me in the passage in the wee hours of the morning.
The advice venerable celeb judge, Michel Roux, invariably dispenses to hapless contestants? Keep it simple. Keep the flavours pure. Get the basics right.
So I binned my disaster and did just that. I can think of few things simpler or more satisfying than white bread, fresh out the oven. Crusty on the outside, crumbly and light on the inside, a liberal schmear of farm butter and a generous dollop of home-made apricot jam is all it calls for.
This truly is a can't-fail white bread recipe. Sadly it's not mine. It's from a delightful old book, The Bread Book, by Linda Collister. I've been making it for over 20 years and I guarantee success, even if you've never baked a loaf before. Just follow the basics.
All you need is…
680g white bread flour (stone-ground white bread flour is great if you can get it)
15g sea salt (I use Maldon, it's wonderful)
7g dried instant yeast
430ml lukewarm water
extra flour for dusting
vegetable oil, for greasing
Add all the dry ingredients to a deep bowl, add water and mix (I find hands work best). Turn the dough out onto a floured surface and knead for ten minutes. Shape into a ball and place in a large bowl greased with vegetable oil. Cover with cling film and place in a draft-free spot for an hour to an hour and a half until the dough has doubled in size. (It's ready when you press it lightly and it does not bounce back.) Remove dough from the bowl and knock it back, then knead for a minute. Shape dough into a flattish rectangle (on a floured surface). Starting at the narrow end, roll it up tightly (the way you would with a Swiss roll). Make sure the seam faces down, then neatly tuck in the edges of the dough underneath (the way you would tuck a sheet under a mattress). You'll end up with a very neat loaf-shaped piece of dough. Place it in a bread pan liberally smeared with butter, cover with cling film and allow it to rise for a hour until it's doubled in size.
Preheat your oven to 230C. Once the loaf has risen, sprinkle a bit of flour on top and use a very sharp knife or NT-cutter to make a 1cm-deep cut lengthways. (This is not essential, but I love the way it fans open the loaf during baking.) Bake for 15 minutes, then turn the oven down to 200C and bake for a further 25-30 minutes. To test whether the bread is done, slip it out of the pan. Knock the bottom of the loaf and, if it sounds hollow, it's done. If not, simply put it back in the pan and into the oven for another five minutes. Remove from the pan and place on a wire rack to cool slightly. This bread is best eaten on the day it's made. If you have any left over, it makes seriously divine toast or crostini the next day. (This white bread recipe makes one large or two medium-sized loaves.)
tips, tricks and trivia Baking how-to

Heat activates yeast, hence the use of lukewarm water. Heat is also the enemy of yeast, so warm water is out. You can use colder water too, the yeast will simply be slower to activate and the dough will take about 30 minutes longer to prove.
Don't put dough in the sun to prove. Also keep it out of drafts. The colder the room, the longer your dough will take to prove. But it will!
For a fresh loaf first thing in the morning, complete this recipe up to the point where you put the dough in the pan. Cover and place in the fridge overnight. It will slowly prove and be ready for popping in the oven the next morning. Real domestic goddess stuff.
For an extra crisp crust, spritz some water into the super hot oven when you put the loaf in.
enjoy with
Fresh warm bread, proper home-made preserve and coffee – I can think of few nicer ways to start the day. Bean There's coffee is a great favourite. They are the first South African company to source and roast Fairtrade coffee from all over Africa.
Their entire range is available online. Choose your country, pick whether you want beans or ground coffee, even pick if you want it ground for espresso, plunger or filter. From just R65 for 250g, this is a real treat.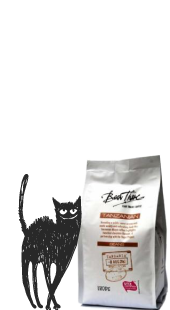 Print this recipe