There are few things I love more than a decent French apple tart, with the possible exception of a proper 'tarte au fromage blanc' – a sophisticated little cheese tart number made with fromage blanc (a soft white French cheese), raisins and candied fruit. So I decided to recreate it, but give it a seriously South African twist. Instead of fromage blanc (which I've never seen for sale here), I used cream cheese and sour cream for that tangy edge. Instead of the candied fruit, I added 'boerejongens', a traditional treat of sultanas in a sweet brandy syrup.
All you need is…
For the pastry case
175g cake flour
25g icing sugar
100g cold butter, cut into small blocks
1 egg yolk
1 tbs cold water
(I'm not going to lie, this pastry recipe is the only one I've ever found that works every time and it's Mary Berry's, not mine.)
For the filling
350g cream cheese
225g castor sugar
150ml sour cream
4 large eggs
70g boerejongens (or use ordinary raisins if you prefer)
20g crystallised ginger, cut very finely (optional)
Pre-heat your oven to 200°C. Using the tips of your fingers (or a food processor) rub the butter through the flour and castor sugar until the mixture resembles bread crumbs. Add the egg yolk and water and mix until it comes together as a dough. Knead for a minute or two. Wrap in cling film and refrigerate for 30 minutes.
Roll out (on a floured surface) and line a 23cm loose-bottomed tin with it. Refrigerate for a further 5 minutes. Prick the base with a fork, line the entire pastry case with tin foil, pour in baking beans (or uncooked rice) and bake blind for 10 minutes. Remove the tin foil and baking beans and bake for a further 12 minutes until the base of the tart is dry. (Much like a baby, a pastry case does not want a soggy bottom!) Remove and cool in the pan. Trim off any excess dough so you have a neat edge.
For the filling, beat the eggs. Fold them into the cream cheese, sour cream and castor sugar. Be gentle, do not whisk! Now add the boerejongens or raisins and ginger, pour into the tart case and bake for 30 minutes at 190°C. Lower the temperature to 150°C and bake cheese tart for a further 20-25 minutes until set and light brown.
good to know
Make your own boerejongens
Boerejongens can often be found at charming country markets and small-town delis. It's real easy to make your own though. Simply heat a cup of water and two thirds of a cup of sugar until the sugar has dissolved. Add the zest of an orange or lemon and 200g sultanas and cook for 10 minutes.
Pour into a sterilised jar (fill it to the top) and add a few tablespoons of brandy. Seal and store in a dark cupboard for at least a month. I love it with vanilla ice cream, with strong cheese and salty crackers, or with extra thick yoghurt, honey and nuts.
enjoy with
Something luscious like this tart just begs for a complex, natural sweet wine. Slanghoek's Creme de Chenin 2010 (with just a touch of hanepoot) fits the bill nicely.
Gorgeous orange, apricot, a hint of caramel and a good acid balance make this a really good buy. My local grog shop stocks it for just under R50.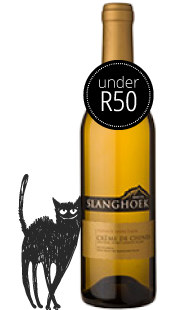 Print this recipe