It's beginning to look a lot like Christmas… Yes, yes, I know it's 6 weeks plus a bit to go, but on my planet I've been wearing my elf hat since September. Because that's how lead times work with this food styling gig and because, frankly, I adore Christmas. Giddy as a 5-year-old at the thought, that's me. So here it is, the first of my festive season inspirations: Cherry-almond Chocolate Salami.
Of course there's no actual meat involved in chocolate salami. It takes that part of its name from the shape. What is involved however is chocolate by the sinful bucket load. Most chocolate salami recipes include crushed biscuits. Nothing wrong with that of course, but I wanted something altogether more lusciously luxurious. So I nixed the biscuits, opting instead for nuts and dried cherries naughtily soaked in brandy.
I also replaced the usual eggs and butter with double thick cream. So what you get is not hard like most chocolate salami offerings, but soft and velvety smooth. It melts on the tongue in a borderline seductive way. I guess you can think of it as a giant salami-shaped chocolate truffle. Serve it with vanilla ice cream and loads of juicy fresh cherries and you have yourself a pretty perfect little festive season pud.
All you need is…
FOR THE CHOCOLATE SALAMI
100g dried cherries (can be substituted with dried cranberries)
¼ cup brandy (I use KWV 3-year old for all my cooking and baking)
250ml double thick cream (I used the Ayershire one from Woolworths)
100g 70% dark chocolate (I used Lindt)
3 x 80g milk chocolate slabs (I used Cadbury's)
100g almonds, lightly toasted in a dry pan and roughly chopped (or a mix of almonds, hazelnuts and pistachio)
2 tbs cocoa
1 tbs icing sugar
TO SERVE
extra cocoa and icing sugar, for dusting
fresh cherries
vanilla ice cream
Warm the brandy and pour it over the dried cherries. Allow the cherries to stand for at least half an hour, then drain them and set aside. Break the chocolate into blocks and place in a glass bowl. Place the bowl over a pot of gently simmering water, ensuring that the water does not touch the bowl. Stir occasionally and remove from the heat the minute the chocolate has melted.
Add the rest of the ingredients and stir through. Allow the mixture to cool for at least an hour to make it easier to shape. Once cooled, dust a large rectangle of baking paper with cocoa and spoon out the chocolate mix in a straight line of 20cm down the middle. Roll it closed to form a long sausage and massage gently until you have a nicely round fat roll. Twist the ends closed like a giant Christmas cracker.
Place chocolate salami in the fridge for at least four hours to firm up. (This will keep in your fridge for a good week, so it's an excellent pudding to make in advance.) You want this to be soft and luscious, so remove the chocolate salami from the fridge 30-60 minutes before serving. I am being deliberately vague here because if it's forty degrees C in the shade, it's obviously going to be softer a whole lot faster. Place the chocolate salami on a lovely platter, dust with icing sugar and cocoa for the pretty, and garnish with truckloads of berries. Carry it to the table and bask in the oohs and aahs.
tips, tricks and trivia
More chocolate salami options
1) If you want to leave out the alcohol, soak the dried cherries in black rooibos tea.
2) Use maraschino cherries instead of the dried cherries. If you do, you obviously do not need to soak them!
3) Replace the cherries with crystallised orange and swap the almonds for hazelnuts.
4) Replace the nuts and cherries with roughly chopped rose-flavoured Turkish Delight. Dress the plate with crystallised or fresh rose petals to carry the theme through.
enjoy with
Bubbles are a bit of a no-brainer here. I tasted the AD Thornlands MCC from Alvi's Drift for the first time last Saturday. It may have been the fine early summer's day, the fact that I could finally pack away my boots or the very excellent view of the Simonsberg mountains in the distance, but I liked it – a lot. This MCC (ergo, it's bottle fermented in Méthode Champenoise style) contains 70% Chardonnay and 30% Pinot Noir. On the nose there is the marvellous breadyness typical of MCC. On the palate it delivers loads of toasted almonds and walnuts, a great foil for the nuts in the chocolate salami.
It's available online at time of publication at R110 per bottle. A very fine price indeed for a lovely sparkler. I highly recommend a bottle or two for the coming festive season.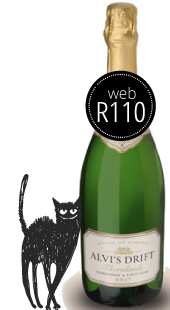 Print this recipe