When it comes to Christmas, I don't just deck the halls, I deck positively everything. Nothing quite as marvellous as excess at this time of year. Which is why I have a wreath not just on my front door, but also on my back door. It's been there since mid-November. This weekend, the tree goes up. I don't know who came up with that 10-days-before-Christmas lark, but they were wombats. I want to enjoy the glitter and the sparkle for as long as possible. I'm going to haul the tree out from under the spare room bed where it has been gathering dust for 11 months, play Christmas music loudly enough to scandalise the neighbours, open some champagne and bling it up in a big way.
I'm having a white Christmas this year. White hydrangeas on the table and throughout my house. White candles, truckloads of them. White French linen. You get the picture. The only white thing that'll be missing, is snow. Which is fortunate, as I have a white bikini I want to dazzle folks with. Or perhaps not. This is the season of goodwill after all.
Don't take offense now, but I consider folks who insist on serving warm traditional Christmas pud when it's 35 in the shade, positively bonkers. Fortunately we do not have a warm Christmas pudding tradition in my family. Trifle is more like it. I doubt green jelly, yellow Ultramel and those waxy red cherries will do much to enhance my glam white theme. I want a pudding that looks like Christmas, which is why I'll be making a fabulous Christmas-wreath pudding this year.
The inspiration for this is a Paris Brest. This is not some perverted reference to Paris Hilton's feminine assets.  It's a gorgeous ring-shaped patisserie, concocted by a Parisian baker some 120 years ago in honour of the Paris-Brest cycle race. Think of a cream puff – on steroids. Choux pastry baked to featherlight perfection, filled with whipped cream with a touch of brandy or crème pâtissière. The French top it with roasted almonds and a dusting of icing sugar. So I did just that, because it looks like snow. Then I added my Christmas-wreath touch, with white chocolate stars and chocolate balls covered in gold glitter. It's OTT, it's easy and, best of all, you can do most of the work the day before.
There are  loads of other ways you can decorate and serve this. I'll share a few, so keep on reading. I wish you and yours a phenomenal summer break. If you're traveling, be safe. And may your Christmas be one filled with special people and memories you'll treasure forever.
All you need is…
Baking is not something one messes around with. Precise measuring is hugely important – and even then it doesn't always work out. There are loads of versions for basic choux dough. However for foolproof baking results, I often turn to Mary Berry, Britain's über baker. This is her choux recipe, and it works everytime.
120g butter (NOT margarine!)
250ml water
150g cake flour
4 eggs
a few drops of vanilla extract (my addition, not hers)
500ml cream
1 tbs good brandy
4 tbs flaked almonds, roasted until golden in a dry pan or oven
icing sugar
Preheat the oven to 200 degrees Celsius. Prepare a baking sheet by coating it with butter and sifting over some flour. Turn a medium-sized dinner plate (about 17cm diameter) upside down on the baking sheet. Use your finger to trace a ring in the flour all around the plate.  Remove the plate. Now you're ready to bake up a storm. Place the butter and water in a thick-bottomed pot over a medium heat. As soon as the butter is melted and the water boils, remove from the heat. Immediately add all the flour, in one go. Use a wooden spoon to beat until the dough comes away from the sides of the pot and forms a ball. This is energetic stuff, so call hubby to come help and you can take turns!
Whisk an egg with two drops of vanilla extract and beat it into the dough using a wooden spoon. Keep on going until the egg is incorporated into the dough. Repeat with the three remaining eggs, one at a time. (It looks a mess when you add the egg and you'll wonder how the dough could possibly absorb so much egg. It does. Just KEEP CALM AND STIR!) Once the dough is shiny and silky smooth, use a metal spoon to place equal-sized dollops of it all around the inside of the ring you drew. You can also use a piping bag, which will give you a smoother ring. Bake for 40 minutes. Then turn the oven off and keep it in for another 10-15 minutes. Remove and cool on a wire rack. Once cool, cut in half using a serrated bread knife. (You can do all this the previous day and wrap it in cling film or wax paper.)
Whip the cream. As the dough is not sweet, the filling needs to be. I prefer using icing or castor sugar to sweeten whipped cream. Sugar is too granular. Stir the brandy into the whipped cream. Fill the bottom half of the ring with the cream. Place the top on. Top with almonds and dust with icing sugar. Decorate with chocolate stars and gold chocolate balls.
To make chocolate stars, melt white chocolate. Place it in a small plastic sandwich bag. Twist so that all the chocolate collects in one corner – an instant piping bag! Snip the corner off (the smaller the hole, the more control you have). Pipe stars onto a baking sheet lined with wax paper. Place in the fridge to firm up. I used chocolate malt balls (Maltesers or Woolies Chuckles) to make the glitter balls. Simply roll them in edible glue and then edible glitter (specialist baking shops stock it) and set aside to dry. I suggest you make these the day ahead and keep in the fridge until serving. Check out GOOD TO KNOW below for 5 more fab ideas for fillings and decorating.
good to know
More ideas for your wreath
Replace the brandy-cream with a mixture of 250ml sweetened, whipped cream and cold Woolies vanilla custard – the fresh one you'll find in their fridge section, not the one in a box on the shelf.
Or mix 500ml whipped, sweetened cream with shop-bought lemon curd. Taste to see how lemony you prefer it!
For a more rustic wreath, nix the chocolate stars and balls. Just top the pudding with the toasted almonds and dusting of icing sugar. Place on a gorgeous white cake stand and pin on a bow made with red and white striped French ribbon.
Melt 100g milk chocolate with 1 tbs butter, 2 tsp golden syrup and 4 tsp milk. Stir until smooth. Fill the wreath with whipped cream (and sliced strawberries, if you like). Place the top on and pour over the chocolate glaze – an instant giant chocolate éclair kids will love!
Fill the wreath with good-quality vanilla ice cream that you softened slightly at room temperature. Place in the freezer for 10 minutes to firm up. Dust over icing sugar and scatter over rose petals. I think of this as a seriously fancy ice cream wafer. Serve it with loads of hot chocolate sauce on the side!
enjoy with
Bubbles, of course! You can pick up pretty much anything that says MCC (Méthode Cap Classique) on the label and know that it is going to be good. There are loads of exceptional buys around the R100 mark and I imagine there will be loads of specials out there before Christmas.
Graham Beck Brut NV is my choice this Christmas. Made from two of the three grape varieties permitted in Champagne, it contains Pinot Noir and Chardonnay. These grapes are fermented separately, then blended and bottled.
It's left for 15-18 months during which secondary fermentation takes place in the bottle – causing the delightful bubbles I so adore. Graham Beck currently offers this online at R105.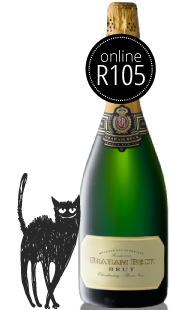 Print this recipe