I say De Krans and you say… Yes, you say port. But you should also be saying many other things, because De Krans is about so much more. I can't say I blame you, 'port' used to be my default response too. After all, De Krans is situated smack bang in the middle of South Africa's capital of port, Calitzdorp, and they're not exactly shy when it comes to winning awards for their ports. But a recent opportunity to sit down with De Krans co-owner, Boets Nel, and their winemaker, Louis van der Riet, showed me the error of my ways.
For you see in addition to their fortified wines (one can't really say port anymore, the Portuguese rather mind), they also make some exceptional wines using traditional Portuguese varietals. The De Krans Tinta Roriz (that's red – yes, it's OK not to know) saw Louis make it to the top three of the 2014 Diners Club Young Winemakers Award. It has loads of dark fruits and spice on the nose and tongue. What a wine. Then there's a Touriga Nacional. It too is simply sublime with dark cherries, white pepper and toasted oak on the nose and dark berries and violets on the tongue. With a retail price of about R85, these are both exceptional red wine alternatives to the more traditional varietals and would pair very well with lamb, and even more so with game.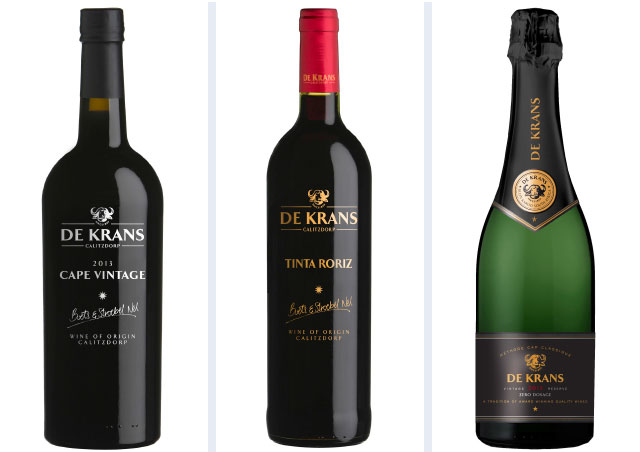 De Krans: Cape Vintage (port), Tinta Roriz and their maiden vintage Méthode Cap Classique 2013.
The chaps from De Krans like being first at things. They were first at making a Touriga Nacional table wine in SA. And now they've gone and done it again – by being first to include a Portuguese varietal in… bubbles! I got to taste the maiden vintage of their Méthode Cap Classique (Zero Dosage) 2013 – a blend of Chardonnay, Chenin and… Tinta Barocca. Crisp, very dry and fresh, I just loved it.
Though the Portuguese varietal is undoubtedly their calling card, it's by no means all De Krans is about. Boets readily admits that the hot Calitzdorp region ultimately defeated his efforts to get Sauvignon Blanc to grow. But in the more classical varietals, they do offer Chenin Blanc, Chardonnay and Cabernet Sauvignon. I tasted them all and they are exceptional value-for-money wines that deliver on quality. I also got to taste their cheeky De Krans Moscato Perlé 2015. The name says it all, it's slightly effervescent, highly perfumed and sweet.
Of course the ideal is to hit Route 62 and go for a fab visit to the Klein Karoo to taste their wines (hot hint to all ladies under 30 – the winemaker is a bit of a dish). In the meantime, step out of your wine comfort zone a bit and grab your De Krans tipple nationwide at leading stores, or order it online from the estate.
About this article: I only write about places and things I actually really like. Should I receive complimentary meals/tickets/diamonds, this will always be revealed. I'm not in the rubbishing business, so if something is not my cup of tea, I'll simply not write about it (but I'll keep the diamonds). Therefore this is not so much a review, as a personal recommendation of places and things I like. Living in Cape Town, I focus mainly on the Western Cape, and I can only cover so many places (there is that troublesome thing of trying to make a living, after all). This is where I need your help. Please share your favourite markets, festivals, restaurants and wine tasting experiences from all over the country with others by using the 'COMMENTS' section below.

Print this recipe