Ask me for my all-time favourite thing to eat and the answer would probably have to be tomatoes. Not crayfish, not chocolate, not caviar. Nope, just plain old tomatoes. I love them fresh on a thin pizza base with truckloads of basil. I love them in a simple tomato sauce for pasta. And, if they're really ripe and juicy, I love them just as they are with a sprinkling of salt.
Winter is a bit rubbish if you ask me. There's the freeze-your-butt-off thing for one and, here in the Cape, the rain-and-gale-force-wind thing too. Simply smashing fun. But what really, really gets my goat is the lack of a decent fresh tomato. I can't do without my love-apple fix so, when the weather turns hostile, I haul out the canned variety. My chunky, spicy, smokey tomato soup is the food equivalent of a snuggle with a labrador puppy. One just feels better. It ticks the cheap, quick and easy boxes too – and I love that almost as much as I love tomatoes. You can use only tinned ones, but I chuck in a few small cherry or rosa tomatoes towards the end, just to remind myself that summer is on the way. What can I say? I'm an optimist.
All you need is…
olive oil, for frying
1 large red onion, finely chopped
1 large clove of garlic, finely chopped
1½ tsp smoked Spanish paprika (note: ordinary paprika is NOT a suitable substitute)
pinch of smoked chilli flakes (you can substitute with ordinary chilli flakes – leave out altogether if you don't like a bit of chilli heat)
2 cans of tinned tomatoes with juice, chopped
1½ cups water
1 beef stock cube (substitute with veggie stock for a vegan version)
1½ tsp brown sugar
2 tbs purple basil, chopped (green basil work as well, but I just love the purple with the red)
large handful of ripe red small cherry tomatoes, halved
4 tbs fresh cream (plus extra for garnish)
salt and freshly ground black pepper to taste
Fry the onion in 2 tbs olive oil until soft and translucent. Add the garlic, chilli flakes and paprika and fry for 30 seconds.  Add the chopped tinned tomatoes with juice, the water, brown sugar, stock cube and the basil. Cover and cook over lowish heat for 15 minutes. (If it boils too vigorously, you may need to thin it with some more water.) Add the cherry tomatoes and cook for a further 5 minutes. Stir through the cream. Taste and add a pinch of black pepper and salt if need be. Serve with a dollop of cream with a sprinkling of paprika on top for the pretty and some purple basil.
I simply love my instant puff pastry parmesan pinwheels with this soup. See TIPS, TRICKS AND TRIVIA below for the recipe.
tips, tricks and trivia
Puff pastry parmesan pinwheels
This is so easy, I hesitate to call it a recipe. Simply take one sheet of all butter puff pastry (the butter puff pastry from Woolworths is the only one I buy). Cover it with freshly grated parmesan cheese. Be generous, you want it real cheesy. If you like a bit of heat, add a pinch of cayenne pepper as well. Roll it up they way you would a Swiss roll.
Place in the freezer for a few minutes to firm up. Cut slices 5mm thick and place them on a non-stick baking tray. Bake at 180 degrees Celsius until the pinwheels are golden brown. I also love serving these as a snack with a glass of wine. It's the perfect pre-dinner nibble. Liked these pinwheels? Click here for another puff pastry pinwheel idea.
enjoy with
This soup has strong flavours and needs a wine that can hold its own. Laborie's 2012 Shiraz has loads of berries and spice on the nose. Lovely fruit and soft tannins make this an easy everyday quaffer.
With a cellar price of just R55 per bottle, it scores high on my price vs quality meter.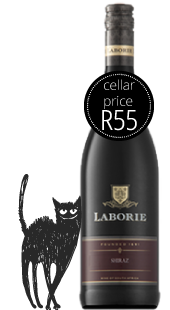 Print this recipe