Say 'Four Cousins' and quaffable everyday wines at pocket-friendly prices immediately come to mind. But what many may not know is that this range is actually part of the Van Loveren stable – and that it was launched by four real-life cousins!
Van Loveren, in the beautiful Robertson Valley, has been in the Retief family since 1937. The first generation of Retiefs focused on sweet wines and wine for making brandy. The second generation started growing noble cultivars to sell to the wholesale trade. They finally started bottling under their own label with the launch of the Van Loveren brand in 1980. Twenty years later, in 2000, the four cousins of the third generation of Retiefs – Bussell, Hennie, Phillip and Neil – launched Four Cousins. The range has gradually expanded and today there's a Four Cousins for every occasion and every palate.
THE FOUR COUSINS COLLECTION RANGE
"Perfect for Chisa Nyama's, Braai's and BBQ's or chilling on your own." That's what Four Cousins says about their Collection range of white and red wines. They're spot on. In the whites there's a Sauvignon Blanc, a Pinot Grigio and the world's #1 selling white cultivar, Chardonnay, to choose from. The red Collection range offers Cabernet Sauvignon, Merlot and that true Saffa cultivar, Pinotage. With a mid R50's price range, even for the reds, the Four Cousins Collection range is a superb choice for entertaining a crowd this festive season.
THE FOUR COUSINS CREAM LIQUEUR RANGE
Pudding in a bottle, that's Four Cousins' Cream Liqueur! Launched a decade ago, it's a firm favourite with those with a sweet tooth and now these creamy treats have been given an overhaul with gorgeous new labels.
As the name suggests, the Four Cousins Strawberry Fields is a rich and elegant cream liqueur that bursts with the flavours of strawberries and cream. The Marula Dream (my favourite of the two) captures the essence of Africa with its unique marula fruit notes. Drink these neat over ice; blend them up into a smoothie with ice cream and ice, pour them over vanilla ice cream or use them as the base for interesting cocktails. Both flavours retail at under the R100 mark for a 500ml bottle, making them a great Christmas stocking filler too.
There's of course loads more to the Four Cousins range, including their excellent lower alcohol Skinny wines. Check them all out here. Cheers!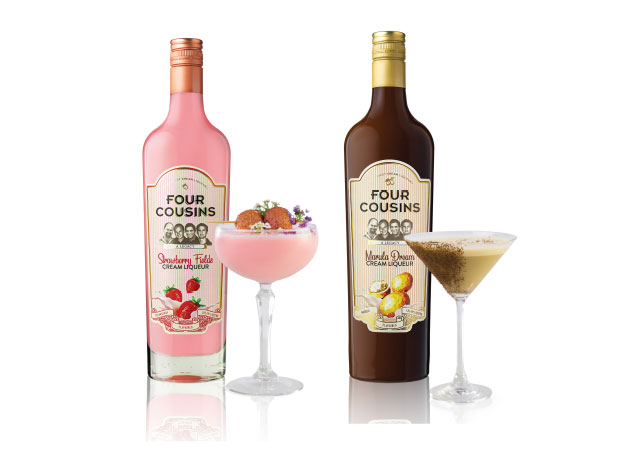 About this article: I only write about places and things I actually really like. Should I receive complimentary meals/tickets/diamonds, this will always be revealed. I'm not in the rubbishing business, so if something is not my cup of tea, I'll simply not write about it (but I'll keep the diamonds). Therefore this is not so much a review, as a personal recommendation of places and things I like.

Print this recipe