Of all the Cape wine regions that I have relatively easy access to, it's the one practically on my doorstep that I neglect most – Durbanville. I was reminded just how special the wines from this region are last week, when Groot Phesantekraal invited me to come visit.
Just 20km or so north of Cape Town centre, the wines of the Durbanville region typically promise luscious fruit thanks to loads of sunshine, but also an undeniably crisp freshness thanks to the cooling effects of the nearby Atlantic. I always hesitate to use the word 'terroir' because I don't want to look like a wine snob, but this wine region with its temperate climate and gently undulating hills does produce some region-specific stunners.
Groot Phesantekraal has been around for over 300 years. The farm (and it is a proper working farm with wheat, and sheep and ducks and stuff) dates all the way back to 1698 when Olof Bergh acquired it from then Governor, Simon van der Stel. It was sold to the Louw family in 1759 and finally purchased by Arend Brink in 1897. It's been in the Brink family since, and that's rather unusual. The current owner and fourth-generation Brink to farm here, Andre, and his lovely wife, Ronelle, planted vines covering just 50ha of the 840 hectare farm. The first Cabernet and Shiraz wines were bottled in 2005 and under the expert management of wine maker, Etienne Louw, their boutique winery has established a niche for itself in the Durbanville wine valley.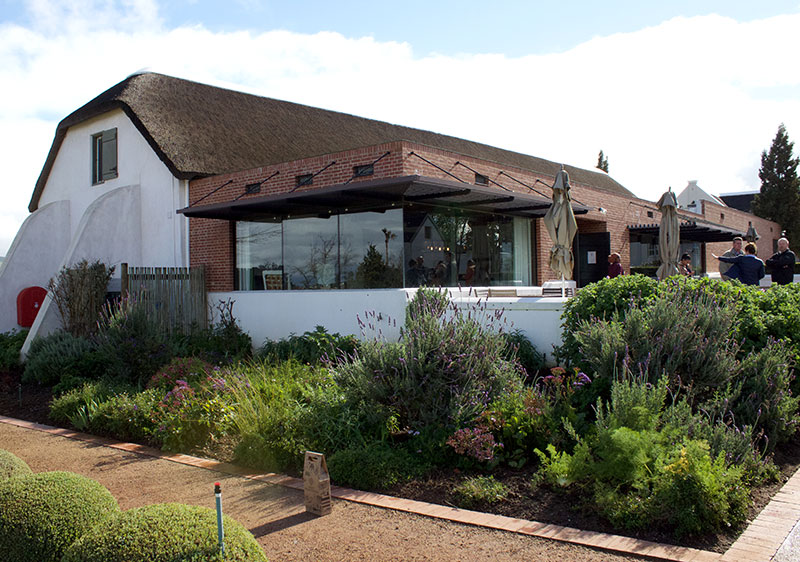 The Groot Phesantekraal team: Owners Andre and Ronelle Brink and wine maker Etienne Louw (right)
I'd never been to Groot Phesantekraal before, so I was excited to hit the N1 north out of Cape Town. Things started going wrong pretty much right away because I believed my GPS – which attempted to send me to Groot Phesantekraal via Budapest, and suggested that I had to walk the final 5km across muddy open fields, which (it helpfully added) would take me only another 42 minutes.
When I finally arrived, having opted to drive, I was thoroughly frazzled. I quickly got the lowdown on getting there from Ronelle. Just take the Okavango Road off-ramp from the N1 and turn left, going past the Cape Gate shopping centre. Stay on this road until it ends in a T-junction with the R302. Turn left and a few hundred metres later you'll see the entrance to Groot Phesantekraal. Can't miss it. Easy peasy. Now why couldn't Google just say that?
I'm not known for throwing around superlatives willy-nilly, but Groot Phesantekraal's tasting centre with its adjacent restaurant is just downright gorgeous. Their sensitive historic-meets-modern aesthetic ticks every décor box in the book. A mostly glass modern addition to the 1767 mule stable makes the space bright and light. Super comfy linen-covered sofas with monster-sized cushions (that I deeply covet) invite you to sink in and relax.
Being an early spring day, the tasting was not to happen in the lovely outdoors area with its expansive views of canola-covered hills bursting out in yellow bloom. Instead we headed for the chicken coop part of the tasting room. A charming low-ceilinged room, it still features a wall with half moon hidey-holes that Groot Phesantekraal's chickens used for laying eggs and generally lazing about in back in 1767.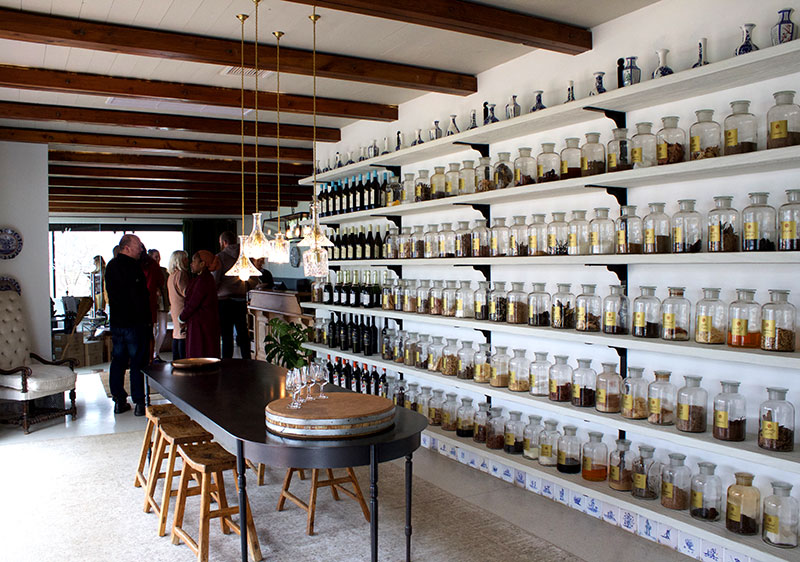 First up was their 2019 Sauvignon Blanc (the 2018 received both a Michelangelo and Veritas silver). I loved it as it has a perfect balance of tropical fruit, loads of green figs and just a touch of green. Pretty much everything I look for in a Sauvignon and good value at R85. Next up their Chenin (the 2018 got a Michelangelo double gold). Unwooded and fresh, it showcases gorgeous stone fruit, pineapple, quince and a hint of spice. The finish is bone dry with just enough acid to make it mouthwateringly moreish. The prolific Chenin is a dangerous grape in the hands of careless winemakers. The Groot Phesantekraal Chenin is a delight and at R60 per bottle from the estate, very good value indeed.
It was interesting to compare this to the next wine, their premium barrel-fermented Anna de Koning Chenin. Extensive lees contact gives it a wonderful richness. Complex and intense with apricot kernel, marmalade and pine nut notes, this is a serious food Chenin and is available from the estate at R140 per bottle.
Next up was their 2017 Cabernet Sauvignon (their sold-out 2015 was awarded Veritas gold in 2018). It showcases Durbanville's typical dusty, herbal notes along with lovely red and black fruit and a hint of cooling spearmint. Gentle tannins means it's accessible now, but will really shine if aged 3-5 years. It's available from the estate at R120 per bottle, very good value given what's in the glass.
The final wine in the flight was their limited-release 2017 Berliet Pinotage (Michelangelo gold). Elegant tannins, ripe red fruit and subtle toasty oak make it lovely now, but with careful cellaring for 8-10 years, it's going to be a stunner. I'll never know, because I can't keep any wine that long.
After the tasting we headed to the adjacent restaurant headed up by chef Juan van Deventer and his wife, Maret. Great care was taken in the restoration of this old stable structure. The original stone floors gleam thanks to a resin applied to protect them from 21st century high heels. The white décor theme continues here, with blue and white border tile detail and the original wooden mangers and wooden ceiling beams making the space feel intimately stylish instead of sterile.
I feasted on pork belly that is hands-down the best pork belly I have eaten in any restaurant, anywhere, ever. More superlatives! What is the world coming to? Groot Phesantekraal's menu is seasonal but evergreen favourites, like the belly, are a constant with a nod to seasonality in the plating. The restaurant is open for breakfast (08:00-11:00am) and for lunch (12:00-15:00) Tuesday to Friday. Saturdays are different, with a brunch menu served from 09:00 to 14:30. Booking is absolutely essential. (If you're intending to visit the Cape for summer 2019, note that they will be closed from 21 December to 14 January 2020.)
The farm is open for wine tasting and sales Tuesday to Friday from 08:30 to 16:30 and on Saturdays from 09:00 to 14:30.
I'm making it my spring/summer 2019 thing to visit the Durbanville region more often, and Groot Phesantekraal is first on my list – for their lovely wines, their beautiful venue and more pork belly, naturally.
The restaurant team: Husband and wife, Juan and Maret van Deventer.
About this article: I only write about places and things I actually really like. Should I receive complimentary meals/tickets/diamonds, this will always be revealed. I'm not in the rubbishing business, so if something is not my cup of tea, I'll simply not write about it (but I'll keep the diamonds). Therefore this is not so much a review, as a personal thumbs up.

Print this recipe