Merlot and I both have a tendency to gain weight in winter. She does because she stops chasing butterflies and sleeps on my cream couch all day long. I also spend indecent amounts of time on said couch, but if I were honest, I'd have to admit that it's probably the pies, crumbles and cobblers I turn to for comfort that do the true damage.
It's bad enough that I emerge from winter pale as a ghost. One really need not add insult to injury with a 3kg weight gain. This winter, I promised myself, will be different.  I'm going to come up with warming, comforting recipes that don't pack on the pounds. So when SABC3's Expresso morning show asked if I could come up with a drinks recipe for them that uses artificial sweetener, I thought what a great way to start my quest.
Is it possible to have hot chocolate that looks and tastes like it contains an entire slab of chocolate and a gallon of cream, but doesn't? Yes it is! My orange hot chocolate is thick, rich and creamy, and lower in fat and calories than you would think.
All you need is…
500ml low fat milk
zest of two oranges
teeny pinch of salt
2 to 2½ tbs sugar (or sweetener equivalent if you want a low cal version)
2 tsp corn flour
1½ tbs cocoa powder
juice of half an orange
30g chocolate (with 70% cocoa content – I used Lindt)
50ml whipped cream for serving (optional, leave out if you are watching the calories)
Heat the milk with the sugar and orange zest (if you are using sweetener instead of sugar, do not add it yet, just heat the milk and zest). Dissolve the corn flour and cocoa in two tablespoons of water. Stir into the milk along with the salt. Bring to a boil while stirring. Boil on lowish heat for three minutes. Once it has thickened, add the orange juice. Take off the heat and add the chocolate (and the sweetener if you're using that instead of sugar). Stir until the chocolate dissolves. Pour the mixture through a sieve or colander to remove the orange rind.
If you have one, blitz the hot chocolate with a stick blender until frothy. Pour into cups and top with a teaspoon of whipped cream, a grating of chocolate and a few strips or orange zest.
good to know
Some like it hot…
To make Mexican hot chocolate, leave out the orange rind and orange juice and add a pinch of red chilli.
enjoy with
Serve this hot chocolate as a pudding in small espresso cups. A sip of good brandy on the side and it's about as perfect an ending to a great meal as you can get. We make loads of really good brandies in South Africa. KWV is an old faithful with a stable full of different ones, from an everyday 3-year old to a very fine 20-year old potstill.
Their 15-year old offering was awarded best brandy in the world last year at the International Spirits Challenge in London. It's not cheap, but treat it like a Cognac. Sip it neat and drink little.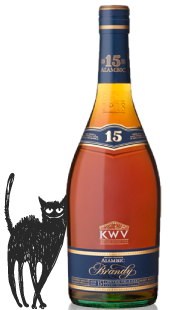 Print this recipe