"You really must intend to come here." These are the words of Ivy du Toit, winemaker at Jason's Hill. Why? Because tucked away as it is in the Slanghoek Valley close to Rawsonville in the Boland, Jason's Hill is not exactly a place you happen upon by chance on your way somewhere else. No, you have to mean to go there and you really, really should.
I am a creature of habit, it makes me feel secure and comfortable. It probably also makes me quite boring. Which is why I've undertaken to mend my ways in 2015, and visit new places and try new things. So I was delighted to be invited to visit Jason's Hill recently. Early one morning a bunch of us winos/foodies headed out from Cape Town on the N1 and instead of doing the usual – thundering through the tunnel to get to the other side as fast as possible – we took the scenic route up the pass. I'd forgotten how exquisite it is. Mountains and vistas that are chocolate-box perfect all around.
Past Goudini spa we went meandering our way up the Slanghoek Valley, impressive mountains towering over us on either side. Arriving at Jason's Hill we got a friendly, sloppy-wet hello from the resident boxer, Benjamin, and from Ivy – who was also very friendly, but thankfully not drooling.
Ivy is a bit of a trail blazer for women winemakers. She was the first woman to be named Diner's Club Young Winemaker of the Year back in 2003 and was also Landbou Weekblad Woman Winemaker of the Year 2004. Female winemakers are pretty much a dime a dozen these days, but back when Ivy started out, not so much.
Ivy's family has been on this land for generations and grapes have always been grown. But it was not until Ivy expressed serious interest in making wine that Jason's Hill as we know it today came into being. She made her maiden Shiraz in 2001 with everything – from picking and destemming to bottling – done by hand. Today Jason's Hill is a regular award winner. There is the Jason's Hill range of red and white wines, a Jason's Creek entry-level red blend and the Ivy du Toit label. The latter is Ivy's pet project where she makes what she feels like, not what market forces dictate. And she makes it in smaller quantities just in case, as she puts it, she has to drink the lot.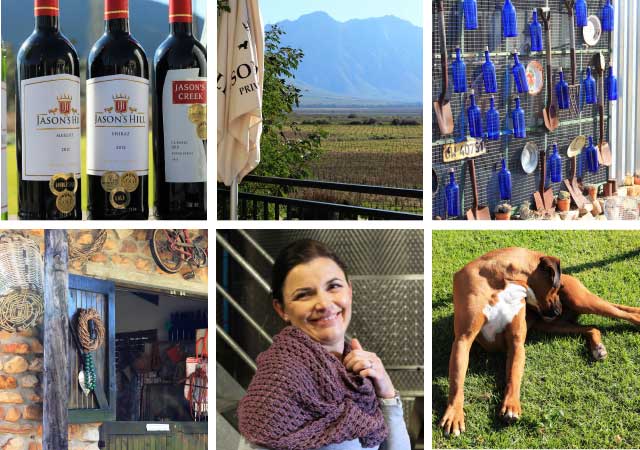 Jason's Hill Beautiful mountain scenery, quirky arty displays, Ivy the winemaker and Benjamin, the Jason's Hill dog, doing… well, what dogs do.
This is warm wine country and it's easy to end up with wines that are overly fruity and flabby thanks to a lack of acid. But through careful canopy management and harvesting for correct acid levels, Ivy makes wines that are wonderfully balanced and fresh. I tasted everything from Sauvignon Blanc, to Chenin, to Shiraz and Merlot. And I loved, loved every single one of them. Price-wise Jason's Hill wines presents ridiculous value for money. I bought two boxes when we left. I should have bought three.
The scenery at Jason's Hill is just spectacular. With mountains all around, it is one of the prettiest tasting venues I've been to. There's also more than just wine tasting at Jason's Hill. The property has a delightful teeny shop stocking interesting knick-knacks, there's an aviary full of exotic birds that should keep the kids entertained for quite a while, and there is a wonderful hiking trail. After all of this you will of course be hungry. So head to their bistro where you can feast on burgers, pies, stews and loads of other yummy things.
Visit Jason's Hill. You won't be sorry.
* I was an invited guest at Jason's Hill. See About This Post below.

where
Slanghoek Valley
(33°39.877S 19°13′.716E)
times
Mon-Fri 8am-5pm, Sat 10am-3pm
About this article: I only write about places and things I actually really like. Should I receive complimentary meals/tickets/diamonds, this will always be revealed. I'm not in the rubbishing business, so if something is not my cup of tea, I'll simply not write about it (but I'll keep the diamonds). Therefore this is not so much a review, as a personal recommendation of places and things I like. Living in Cape Town, I focus mainly on the Western Cape, and I can only cover so many places (there is that troublesome thing of trying to make a living, after all). This is where I need your help. Please share your favourite markets, festivals, restaurants and wine tasting experiences from all over the country with others by using the 'COMMENTS' section below.

Print this recipe