Nestled on the outskirts of Franschhoek, La Motte wine estate is a true Western Cape winelands treasure. Pity then that it's taken me 20 years of living in the Cape to discover it. That all changed last week when I had the privilege of not only visiting the estate, but staying overnight in their 1751 manor house.
Yes La Motte makes exquisite wine and offers a truly wonderful winelands fine dining experience. But it's about so much more. My day started off with a visit to the museum on the estate to see what is probably the finest collection of Pierneefs on permanent display in the country.
Of course I'm not referring to my second-cousin-twice-removed, Arnoldus Pierneef, who runs a second-hand car dealership out of his back yard in Patensie. I mean Jacob Hendrik Pierneef (1886-1957), one of South Africa's most famous 20th century artists. Avid Pierneef admirers, La Motte owner Hanneli Rupert-Koegelenberg and her husband, Hein Koegelenberg, have secured an extraordinary collection. It includes some lesser-known private pieces they acquired from Pierneef's daughter, Marita.
Also on display in the museum is a changing exhibition of other great South African artists. The current one, which will run well into 2016, celebrates South African female artists and features works from the likes of Irma Stern, Maggie Laubscher, Maud Sumner and Cecily Sash. What a privilege. The museum also has a music wall where you can listen to recordings of Hanneli, in her day (under her maiden name Hanneli Rupert) one of South Africa's finest mezzo-sopranos.
Appreciation for art, culture and preservation is a thread that runs through everything at La Motte. The exquisitely maintained grounds feature numerous fine sculptures. Admire them at leisure or join the formal guided sculpture walk that is concluded with a glass of bubbly and a scrumptious French Madeleine under ancient oak trees.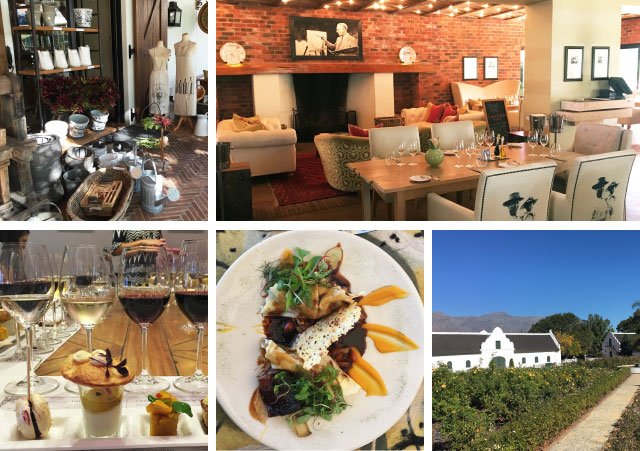 Western Cape wine gem: Wine tasting, fine dining, shopping, art, music. La Motte has it all.
There's also the option of joining their sustainable walk that takes in their biologically farmed vineyards, their fynbos garden and finally their kitchen garden that supplies herbs and veggies to their award-winning restaurant. For the more energetic, there is a larger sustainable hike for which you need to allow 2-3 hours.
The tasting room at La Motte is simply exquisite. It's not everyday that you get to admire a genuine Pierneef while trying some seriously good wine. As tasting experiences go, this is one of the most pleasant I've ever enjoyed in very fine surroundings indeed.
And then there is the option of a food and wine pairing. It's held every Friday in the very elegant Pierneef á La Motte restaurant on the estate. It's clever because it doesn't assume any wine knowledge. Before you get to the food bit, tasters get a baseline crash course in which one wine is paired with variously sour, bitter, salty and umami tastes. Then it's onto the food/wine pairing part, which includes two whites and three reds. Chef Michelle Theron is a bit of a rock star, tempting the taste buds with things like savoury lemon and thyme blanc mange with poached apple and goat's cheese crisp, followed by duck terrine with spinach cream, black cherry and master stock jelly. But the revelation of the day for me was her Karoo lamb with eucalyptus mayo that echoed the slightly green tomato leaf notes on their Cabernet Sauvignon brilliantly. As a food and wine pairing experience, I highly recommend it.
If you need further convincing, consider that the Drinks International Wine Tourism Awards gave La Motte top honours in the 2016 Best Food and Wine Matching Experience category. Also consider that this is the third time they've come out on top, having also received the award in 2013 and 2015.
A visit to the farm shop is obligatory. Here you can buy gorgeous edibles, kitchenware, linen and more, all seriously covetable. I dropped some dosh on a chocolate brown plate from Mud that just screamed for me to adopt it. You'll be seeing it in future food piccies no doubt.
Light nibbles are available from the farm shop. But if you want to really treat yourself, have lunch at Pierneef á La Motte. For starters think baked bone marrow with pomegranate-pickled ox tongue offset by a sharp little caper and onion salad and potato and grilled leek sour dough. That or how about warm calamari and quinoa salad with tomato and paprika broth, chunky coriander pesto and crisp pasta chips. Got your attention yet? Then move onto mains with the likes of braised beef short rib ravioli with salt-baked pumpkin and molasses braising reduction.
The a la carte lunch is available from Tuesday to Saturday and changes to make use of the best seasonal goodies from their garden. Sundays there is a family-style menu on offer at a set price per head. Pierneef á La Motte is open for dinner Thursday to Saturday in summer. Dinner is a 5-course tasting menu that you can enjoy with or without wines to match. In the winter months this changes to Friday and Saturday evenings only. You absolutely do have to make a reservation.
I'm not known for over-emoting. I seldom rave and I positively never ever gush. Until now that is.
* I was an invited guest at La Motte. See About This Post below.
where
R45 Main Road, Franschhoek Valley
when
Check website for times of various activities
note
La Motte is wheelchair friendly
contact
T +27 (0)21 876 8000
About This Post: I only write about places and things I actually really like. Should I receive complimentary meals/tickets/diamonds, this will always be revealed. I'm not in the rubbishing business, so if something is not my cup of tea, I'll simply not write about it (but I'll keep the diamonds). Therefore this is not so much a review, as a personal recommendation of places and things I really like.

Print this recipe