I'm as fond as the next South African of boerie on the braai. Nothing beats the smell of all that fat and gorgeous coriander hitting the hot coals. I'm rather partial to a plump lamb chop too.
But National Braai Day isn't just any day. It's an occasion. Approaching it the way I would any normal weekend braai seems… well, a little bit disrespectful somehow.
A statement braai is called for on a day like this – and nothing makes a statement quite like a whole leg of lamb, done to smoky perfection on my Weber. I like high-impact food that's little to no effort.
Nothing wrong with wanting to sip something fine and chat the afternoon away with friends instead of slaving in smoke. This fits the bill nicely. Make the fire, chuck the roast on and walk away. It takes care of itself.
I do deign to give it an occasional brush of my special Greek-inspired baste packed with garlic, origanum, olive oil and a few other magical things.
What to serve with it? Whatever you want! I continue the Med theme and serve mine with pita warmed on the braai, my green spring salad with loads of feta and finally extra thick, creamy tzatziki with dill and mint.
This is braaing made fancy, but I think it's rather fitting for my favourite national day.
All you need is…
5 tbs olive oil
2 tbs tomato paste
2 tbs fresh origanum (dried works too)
2 tbs water
1 large clove of garlic (or two small), finely chopped
2 tsp dark soya sauce
pinch of black pepper
1.8kg leg of lamb
1 tbs cake flour
Place a tin foil dripping tray between the coal baskets and add half a cup of water. All the wonderful juices from the leg will collect in the tray during cooking and form the base of a truly lovely gravy. As soon as your coals are ready, place your leg of lamb on the grid.
Baste it liberally, put the lid on and walk away. Check it from time to time and baste again.
Once done to your liking, remove the leg, cover with tin foil and set aside to 'rest' for at least 20 minutes, preferably longer. This ensures that the meat stays super moist.
Pour the juices from the dripping tray into a saucepan. Add a tablespoon of cake flour and cook for a minute while stirring. Stir in a bit of water and any leftover baste and cook for 5 minutes. The flour will gradually thicken the gravy. Finally add any juices from the resting leg of lamb to the gravy, add salt to taste, a bit of black pepper and it's done.
good to know
How long on the braai?
How you prefer your meat is a very personal thing. My gran used to roast a leg of lamb long and slow. I prefer mine pink on the bone.
The easiest way of knowing whether it's done, but still pink in the middle, is to use a meat thermometer. 50 degrees Celsius in the middle is perfectly pink for me. If you regularly roast large cuts, I really recommend you buy a thermometer. They're about R200 online.
If you don't have a thermometer, start with 70-80 minutes on the braai for a 1,8kg leg. Stab with a sharp knife and if the juices still flow way too pink for your liking, give it another 5 minutes. Just remember, it continues cooking while it rests, so bear that in mind if you figure it's still too pink.
enjoy with
I think a leg of lamb on National Braai Day deserves something a bit special. Lomond's 2009 Merlot has a gorgeous rich, deep colour and a wonderful nose packed with black fruit. At about R85, it still offers good value given the quality.
If you want something way cheaper, grab a bottle of Arabella 2012 Merlot – a very likeable everyday red at about R45.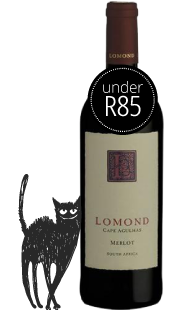 Print this recipe