My love of carbs is well known. I wouldn't quite kill for a good pasta with a rich lamb ragu, but it's close. I blame the one eighth Italian in my veins. Its cousin, polenta, is just as satisfying, and I don't think it gets the attention it deserves.
Like dry pasta, it cooks in about 10 minutes, is cheap and keeps forever in your cupboard. It's a fabulous supporting act for sausages, stew or something vegetarian. Cook it with chicken stock and milk for extra richness and finish it off with a knob of butter and loads of freshly grated parmesan. I'll devour it just like that. But to turn it into a complete meal, add some herby, garlicky, buttery mushrooms. I think of this as Italian fast food, it's on your plate in under half an hour.
All you need is…
½ cup polenta (available at all big supermarkets)
1 cup milk
2 cups water
1 sachet liquid chicken stock (Woolies or Ina Paarman's is perfect.)
1 tbs butter
½ cup grated fresh parmesan or pecorino
¼ tsp salt
400g mushrooms (I used 250g portabellini for its rich earthiness and 150g shimeji for the pretty)
1 clove garlic, finely chopped
1 heaped teaspoon fresh thyme leaves
1 tbs olive oil
2 heaped tablespoons salted butter
1 tbs flatleaf parsley, chopped
1½ tbs fresh lemon juice
½ tsp lemon zest
large pinch of freshly ground black pepper
salt to taste
extra parmesan for serving
Add the milk, water and chicken stock to a large saucepan and bring to the boil. As soon as the water boils, pour in the polenta, whisking as you pour – a balloon whisk works best for this. (You will initially think there is far too much liquid, but the polenta is a super sponge and you want the polenta soft and velvety anyway.) Cover, turn heat to its lowest setting and cook for 10 minutes. Stir a few times.
Fry the mushrooms while the polenta is cooking. Start by adding the oil to the pan. As soon as it's warm, add the butter, garlic and thyme and fry for 30 seconds. Add the chopped mushrooms. (For visual interest, I don't chop them all the same. I slice, halve and quarter. The pretty littles ones, like shimeji, I leave whole.) If the pan gets too dry, add a bit more butter. Once the mushrooms are cooked, add the parsley, lemon juice and zest and stir through. Give it a big pinch of black pepper and salt to taste. The butter is salty, but you will need extra salt, remember salt is flavour!
Stir a tbs of butter and the parmesan into the polenta.I added a quearter teaspoon of salt as well, but first taste and add a bit at a time because your butter or stock may be saltier than mine. Dish the mushrooms on the polenta. For the pretty and the fresh add another generous pinch of parsley and grating of lemon zest to the mushrooms. Serve immediately with extra cheese on the side.
tips, tricks and trivia
Polenta chips
Polenta chips are a wonderful carb alternative to potatoes, especially with juicy steaks or lamb chops.
To make them, simply cook a thicker polenta by adding less liquid than the recipe above calls for. Once cooked, spread it evenly on a baking tray and allow to cool. Cut chips and fry them until crispy and golden in olive oil flavoured with a few sprigs of rosemary.
enjoy with
Winter's on the way and this dish is the kind of comforting treat you eat with a spoon in front of a roaring fire. AA Badenhorst's Secateurs Red Blend 2012 is my choice with this. It's a blend of 47% Shiraz, 10% Cinsaut, 8% Cabernet Sauvignon, 6% Grenache, 1% Carignan en 1% Mourvedre. It's smokey, peppery and spicy with abundant red fruit too.
This wine is the creation of cousins Hein and Adi Badenhorst on the farm Kalmoesfontein in the Swartland.
Here they still make wine using traditional methods, with loads of love and patience. It shows. It gets 4 stars in the 2015 Platter guide and is available online for less than R90.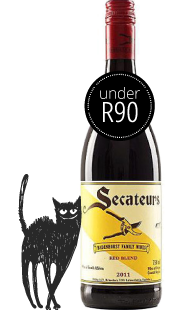 Print this recipe