The non-alcoholic wine trend is seriously on the up and up. Now I do love my wine, but there is very definitely a space in my wine rack for low alcohol or no-alcohol wines. So I'm delighted that there are some new kids on the block for summer 2020.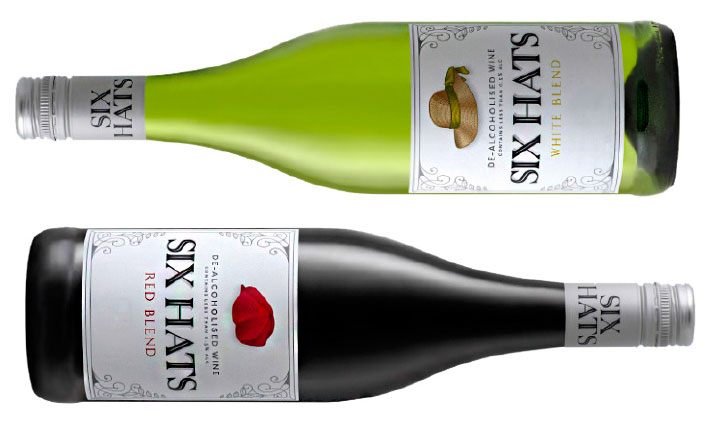 PIEKENIERSKLOOF WINE COMPANY – SIX HATS DE-ALCOHOLISED WHITE AND RED
Piekenierskloof Wine Company's Six Hats range is well known for delivering quaffable wines at great prices. Now they've added to their range with a de-alcoholised White Blend and Red Blend, both coming in at under 0,5% alcohol.
The white is made of 100% Chenin Blanc grapes that were handpicked very early in the morning, allowing the fruit to retain maximum natural flavour. On the nose it has tropical aromas of guava, green apples and pear. Take a sip and you'll discover a refreshing acidity plus just the teeniest hint of off-dry. It's a winner served ice cold on its own and would pair especially well with any food that's a bit spicy. And at just 68kJ per 100ml, it's the perfect guilt-free summer indulgence.
The Six Hats de-alcoholised Red Blend is made of 50% Tempranillo, 30% Tannat and 20% Tinta Amarella grapes. The grapes were hand-picked and cold soaked for 24 hours. The wine was matured for six months using French and American oak and the alcohol level reduced to less than 0,5% ABV just before bottling. On the nose you'll pick up hints of ripe red fruit and caramelised popcorn. It's best served between 15-18 degrees Celsius and is the ideal partner for any casserole or roast. My verdict? One of my favourite non-alcoholic reds on the market! Both are available online at time of publication for R85 a bottle.
ROBERTSON WINERY – NON-ALCOHOLIC DRY SPARKLING PINK
Nothing but nothing says 'celebrate' to me more than a glass of bubbles. And for the occasions when I do not want alcohol, Robertson Winery is one of my go-to's. Their range includes a non-alcoholic sweet sparkling white and sweet sparkling pink. Nice enough to be sure but when it comes to bubbles, sweet is just not my thing. Fortunately their range includes a non-alcoholic dry white sparkling wine that contains 0% alcohol. That's right, zero. It's a firm favourite, and I'm tickled pink that they have expanded this range with the release of, you guessed it, a new non-alcoholic dry sparkling pink!
It has a gorgeous pale pink colour, reminiscent of the 'onion skin' hues of French rosé. One the nose you'll find aromas of Turkish delight, cinnamon and strawberry. The palate bursts with flavours of fresh juicy strawberries, hints of rose petals and candyfloss. The finish is fabulously dry and, like its white counterpart, the alcohol level is 0%. I really liked this alcohol-free pink bubbly. At just 64kJ per 100ml I can indulge this festive season and still fit in the skinnies. What do I love even more? It's price. At time of publication it's retailing at R55 per bottle. That's just fantastic.
About this article: I only write about places and things I actually really like. Should I receive complimentary meals/tickets/diamonds, this will always be revealed. I'm not in the rubbishing business, so if something is not my cup of tea, I'll simply not write about it (but I'll keep the diamonds). Therefore this is not so much a review, as a personal recommendation of places and things I like.

Print this recipe