The thing about spending the amount of time in the kitchen that I do, is things can get a bit lonely. Merlot is an excellent conversationalist, to be sure. But as I don't actually speak 'cat', her incessant chatter isn't exactly what I would call spell binding.
So when the inimitable Nina Timm from My Easy Cooking asked if I'd like to come cook with her, I was tickled pink. Not only a human to talk to while cooking, but Nina Timm of all people.
Food stylist and photographer, recipe developer, cooking teacher, RSG radio host – you name it, Nina does it. Quick and easy was her brief. Since that's they way I like it too, this suited me just fine. So, this morning, bright and early (and very, very cold) I pitched at her door to be welcomed by the canine equivalent of Merlot. Black as midnight with just a hint of white, Oreo is a mighty friendly mutt. She invited me right in.
So too is Nina. Not a mutt of course, but mighty friendly. We chatted over coffee and then we cooked. It's amazing how long and hard one sometimes needs to think about quick and easy. But I'd finally settled on some pear and marzipan tartlets with chocolate ganache. Pear, almond, chocolate. Hmmm, one of my favourite flavour combinations. Slap it on some all-butter puff pastry and serve it warm with a dollop of cream or vanilla ice cream and it's about as easy as a pudding gets.
Thanks for the invite Nina! I so loved being in your kitchen.
Until next time
Lizet & Merlot
P.S. Catch me chatting to Nina on her radio show just after 9am tomorrow morning on RSG.
All you need is…
two squares of Woolworths butter puff pastry (as pastry is the star here, it really is worth spending a bit more and getting an all-butter puff)
3 pears
marzipan (or persipan)
3 tbs butter, melted
1 tbs castor sugar
3 tbs apricot jam, melted
70ml cream
100g dark chocolate
50g flaked almonds, toasted
icing sugar, for dusting
Preheat your oven to 180 degrees Celsius. Toast the almond flakes in a dry hot pan or the warm oven until they're golden. Remove and set aside. Using a tea cup as a guide, cut eight circles out of the pastry sheets. Roll eight small balls of marzipan (about one teaspoon of marzipan per ball). Press marzipan balls flat with a rolling pin. You want them about the size of a R5 coin. (If you dust your board and pin with some icing sugar, they will not stick.) Place a flat round of marzipan on each pastry circle.
Slice the pears very thinly lengthwise and fan pear slices out on the pastry circle. Brush pears with a bit of butter and sprinkle very lightly with some castor sugar. Bake on a non-stick baking tray until the pastry is golden and the pears are soft. As soon as they come out the oven, brush the pastries with some melted apricot jam. Sprinkle with the almond flakes, pipe over some chocolate ganache, dust with icing sugar for the pretty. Serve warm with sweetened, whipped cream or vanilla ice cream. If you want to continue the whole chocolate and almond theme, serve it with some Woolies Tin Roof ice cream. It's one of my faves.
For the ganache:
Whip up the ganache while the pastries are cooking. Simply heat the cream in a pot or the micro – do not boil it! Remove from the heat and break in the chocolate. Let it melt and stir until it's shiny smooth. To make an instant disposable piping bag, simply place the ganache in a plastic sandwich bag. Make a tiny hole in one corner and there you have it. Piping made super easy.
tips, tricks and trivia
Another super-quick idea
For cheeky sweet pudding nibbles, open a can of those baby apples. Cut the pastry circles just 2mm wider than the apples. Follow the rest of this recipe as is.
Load lots of these on a platter and serve them with whipped, sweetened cream or cold vanilla custard so folks can help themselves. Perfect pudding fingerfood in a flash.
enjoy with
I've said it before but I'll say it again… sweet wine is not only acceptable, it's classy. Especially if it happens to be a Noble Late Harvest and it's served with pud. Nederburg's NLH is a favourite that rarely disappoints. But try Delheim's Edelspatz Noble Late Harvest for a change. Their 2013 just took the honours at the Old Mutual Trophy Wine Show.
No, it's not cheap. But you don't drink gallons of the stuff. Just a splash or two – think how much water you'd add to dissolve aspirin – and that about does it.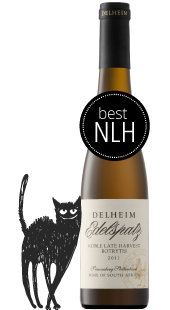 Print this recipe