A few weeks ago, on a gloriously sunny spring morning, I made rather more of an effort than usual – I put on a dress and, shock horror, make-up. I should probably not admit this, but working mostly from home means I'm a bit of a wreck most days. After all, it's not like the cat minds. But this was a special day. I was to be picked up bright and early by Jaco van Niekerk, the winemaker at Piekenierskloof Wine Company. The occasion? The release of their old vine wines.
The Piekenierskloof Wine Company, as the name suggests, is in the spectacular Piekenierskloof valley two hours from Cape Town. With the Cederberg mountains to the east and the Olifants River mountains to the west, it's a place of haunting natural beauty with a unique terroir that delivers wines of exceptional elegance.
Two hours on the N7 (snacking on delish goodies from a breakfast box very thoughtfully provided to all the wine media folk) brought us to the charming Piekenierskloof Deli for a quick pitstop. This is the place to load up on fabulous Citrusdal produce, from dried stone fruits, to biltong, to old-fashioned 'mosbolletjie' rusks. It's also a wonderful spot to enjoy breakfast or lunch, especially at the tables outside with expansive views of the mountains.
Our next stop delivered us smack bang in the middle of Piekenierskloof's old vine vineyards, where the Van Zyl family welcomed us with a glass of something special.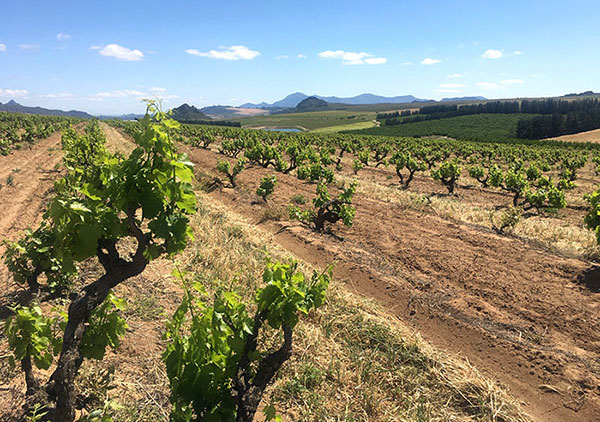 Three members of the van Zyl family: Oubaas (middle), his wife Hannalise and brother Potgieter.
There have been considerable changes at Piekenierskloof over the past two years. In 2017 the Van Zyls of Paleisheuwel's Bergendal and Heidedal farms took over the winery's majority shares and promptly appointed Jaco as winemaker. Together they set out to not only raise the profile of the numerous wines in their portfolio, but also to elevate the reputation and quality of the wealth of old vine vineyards on the two farms.
Brothers, Oubaas and Potgieter van Zyl, took turns to talk about the their old vines as we enjoyed the fruits of their labour. As tasting experiences go, it was such a privilege to be in the vineyard, sipping whilst looking at the incredibly thick, gnarled vines that had delivered these bottled beauties. We tasted the Bergendal Chenin Blanc 2018 (from vines planted in 1962); the Carel van Zyl Grenache Noir 2018 (from 1973 vines), and the Heidedal Cinsaut 2018 (from vines planted in 1976).
Winemaker Jaco talked us through his approach to wine making, which is to do as little as possible and let the fruit shine. "We try not to bugger it up in the cellar," he says wryly. He clearly didn't, because Jaco's 2018 efforts got numerous nods of approval with influential Master of Wine, Tim Atkin, scoring the Bergendal Chenin 91, the Old Vine Cinsaut 92 and the Old Vine Grenache 93. Jaco believes this is just the start, with the best yet to come.
Then it was off to lunch and what a treat it was because Oubaas and Potgieter's sister is none other than You magazine's fabulous food editor, Carmen Niehaus, and she had developed a menu for us with these stellar wines in mind.
We nibbled on sweet potato hummus spiced with sumac and topped with a sultana, green olive and spekboom salsa. Perfect with the Chenin. So too was the green salad with brococoli, cauliflower and green apple marinated in dressing made with green rooibos and buchu. Then it was Mediterranean chicken oven-roasted with the Chenin, green rooibos and honeybush. (If you're spotting a rooibos trend here, that's because the other Van Zyl sister and Carmen's twin, Mientjie Mouton, is the driving force behind neighbouring Carmién Tea!)
The Cinsaut was paired with a piéce de resistance whole baked pumpkin stuffed with oven-roasted veggies and sorghum cooked with (you guessed it) green rooibos, dried peaches and apricots. This was followed by fall-off-the-bone soft roast lamb.
Carmen Niehaus, the fab food editor of You magazine, steps away from the kitchen for a minute to pose prettily in lavender. 
Pudding was to be served elsewhere, so we bundled into and onto 4x4s to make our way up a mountain. The last time I was on the back of a bakkie was when mullets were still fashionable. I felt like a kid again, clung like a limpet and grinned like a fool.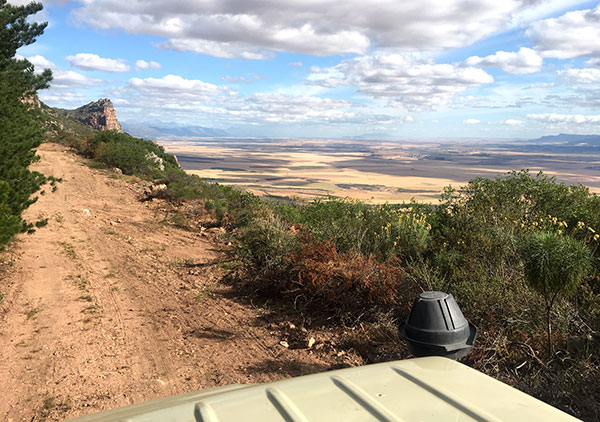 The final treat of the day, Piekenierskloof's Samson straw wine 2018 (the 2017 was scored 93 by Tim Atkin) awaited us at the top. It was served with Carmen's take on carrot cake and something deeevinely lemony in small glasses. Intensely aromatic and pleasingly sweet with just the right amount of acid to balance, it is the perfect partner for pud. The sun was low in the sky by the time I clambered back onto the bakkie to make the slightly hair-raising trip back down the mountain.
We are blessed with so many incredible wineries, so why was I so taken with Piekenierskloof? I had two hours to reflect on this as someone else (mercifully) drove us back to Cape Town. Yes, they make gorgeous wine, but the thing that really sets Piekenierskloof apart from so many others is the centricity of family, and the Van Zyl's ethos of community and of caring. It's central to everything they do, and the way they do it. I think you can taste it in the wine.
WHERE TO BUY PIEKENIERSKLOOF'S WINES
Piekenierskloof's wines are available on their site for shipping countrywide in SA. The Piekenierskloof Stonedance and Six Hats ranges are available in selected shops and online at wine.co.za. As their Old Vine range has just been released, it is not yet available in any retail outlets or specialist shops, however you can mail Piekenierskloof at info@pkwc.co.za or phone their office on 022 921 2233.

Print this recipe