I've never really been one for long-term planning. A bit like a puppy I guess, I'm more of an in-the-moment kinda person. This is not necessarily a trait that has served me well, but there you have it. So it comes as no surprise then that I don't have a bucket list. Maybe swimming with dolphins, possibly walking to Everest base camp but, you know, whatever.
Until this past weekend that is, when I went to see the latest foodie movie now on circuit – The Hundred-Foot Journey (see the trailer here). Starring the inimitable Helen Mirren as the proprietress of a classy one-Michelin-star restaurant in the French countryside, it's a sweet tale of friendship, love, food and… the importance of a star.
I've long wondered just how wonderful a meal worthy of a Michelin star would be. And how much more awesome a three-star meal would be than a mere piddling one-star nosh. And now I want to know, and I don't want to find out just anywhere, I want to eat Michelin food in France. Finally, something significant for my sad bucket list. If I start saving now, I reckon I'll get there when I'm eighty.
In the meantime, I'll console myself by cooking plain French country food with zero stars, but plenty of punch. Food like pissaladière, that classic Provencal treat. It's translated as being a Provençal onion tart, but it's really more of a bready/thick-base pizza type thing, laden with sweet caramelised onions, salty anchovy and bitter olives. I add garlic and thyme too. Because that never hurts.
All you need is…
For the dough
350g bread flour
10g instant yeast
½ tsp salt
3 tbs olive oil
1 extra large egg
160ml water
For the topping
1.5kg onions, finely sliced
8 tbs olive oil, for frying
1½ tbs fresh thyme
1 clove garlic, chopped (if you like it pungent, add another)
small pinch of salt and generous pinch of freshly ground black pepper
small bottle of anchovies
Kalamata olives, pitted
Mix all the bread ingredients together and knead for 10 minutes. Place dough in a large bowl smeared with olive oil, cover with cling film and set aside in a warm place to rise for an hour. In the meantime, gently fry the onions in the olive oil until soft and lightly caramelised. You want it nice and light brown, not burnt. This takes at least 25 minutes. Add the garlic and thyme towards the end. Add the salt and pepper and set aside to cool.
Once dough has risen nicely, knock it back and knead for another minute. Roll out the dough in a rectangular shape one centimetre thick and line a rectangular baking tray (brushed with olive oil) with it. Cover with the onions, then add anchovy fillets and pitted black olives. Traditional pissaladières feature the anchovies in a diamond-shaped pattern with the olives in the centre of the 'diamonds'.
Bake at 220 degrees Celsius for 25-30 minutes until the bread is golden and baked through. Cut into smallish squares and serve while warm as a snack with a glass of dry rosé. Or add a fresh green salad for a lovely light lunch or dinner. As a snack it will serve 8-10. As a meal it will serve 4.
Alternatives:
If you're lucky enough to have access to a baker or store that sells ready-made bread dough, use that instead of bothering to make your own.
Use all butter puff pastry instead of the bread dough. (Woolies stocks it.) It's delicious and makes a slightly more elegant snack, especially if you cut individual 4 x 4cm pastry squares.
tips, tricks and trivia
If anchovy is not your thing…
Try this version of pissaladière instead: Slice red peppers lengthwise and fry until soft in olive oil. Lay in a lattice pattern on top of the onions instead of the anchovy. I also add red chilli flakes.
You can keep the olives or replace them with slices of chorizo sausage. There's no need to fry them first. Just add them to the pissaladière and chuck it in the oven.
enjoy with
Pissaladière is a Provençal staple and rosé is the wine of Provence. If you fancy a French rosé, pop into Woolies. They stock Domaine Grier French Rosé for R60. It's pale pink, the way they make them in the south of France, Old-World subtle and delightfully dry. I just love it.
One of my local faves is De Grendel's rosé. It's also dry and has lovely strawberry on the nose and palate. You can order it online for just R50. At this price, why not stock up with a case.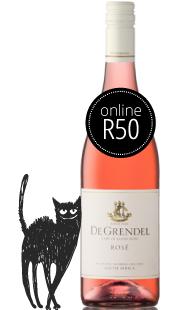 Print this recipe