Polpette – that's what the Italians call small meatballs. Now you could say 'small meatballs' when you serve this up, but it's a lot more fun to give it your best Italian inflection and shout 'polpette'!
Recipes for polpette are legion, with each Italian nonna or mamma giving it her own special twist. Some add herbs, some garlic, some chilli, and some leave it real simple, adding just nutmeg and black pepper. Polpette can be served as is, with little sticks to pop the suckers into your mouth along with a glass of something cold. They can also be served in a sauce, and then become an entire meal with crusty ciabatta, rice or pasta and a green salad on the side.
Most sauce recipes for polpette are tomato based. But a lazy page through one of my favourite vintage (circa 1971) cookbooks In cucina con amore by none other than fabled Italian movie star, Sophia Loren, gave me another idea. Not just a marvellous actress and an impossibly beautiful woman, Sophia also happens to be a seriously mean cook. But then I kind of expect that of any self-respecting Italian. (If you are a reader under 40, Google her.)
Sophia doesn't mess with her polpette, adding just nutmeg, black pepper and parmesan. But what really fascinates me, is her addition of chicken mince to the beef, and her substitution of a tomato sauce with a cream sauce. So I thought I'd give it a whirl. I was in a thoroughly Italian more-is-more sort of mood, so I upped the ante on the flavour additions considerably and I used way more parmesan too. I like to think Sophia would approve.
All you need is…
FOR THE POLPETTE
500g beef mince
250g pork or chicken mince (I used pork)
½ tsp salt
4 tbs breadcrumbs
1 jumbo egg
¼ tsp freshly ground black pepper
1 tsp lemon zest
third of a teaspoon nutmeg
6 tbs freshly grated parmesan or pecorino
olive oil for frying
FOR THE SAUCE
1 bay leaf
1 fat garlic clove, in its skin but whacked with something blunt to open it
¼ cup water
1 ½ cups cream
¼ tsp nutmeg
½ cup freshly grated parmesan or pecorino
squeeze of lemon juice
salt and black pepper to taste
Mix together the polpette ingredients. Use your 1-tbs measuring spoon to scoop out even amounts of mince mix and roll into perfect little meatballs. Fry in olive oil until evenly browned. You'll need to do this in batches to prevent your oil from getting too cold, and you may need to add a bit more oil as you go along.
Set the polpette aside and pour off excess oil. Put the pan back on the heat and add the water to deglaze the pan and lift all those lovely brown bits from the bottom. Now add the cream, bay leaf and garlic clove and cook until reduced by half. Remove the bay and garlic. Stir in the parmesan and nutmeg, taste for salt and adjust as needed. Give it a pinch of black pepper too. Place the polpette in the cream sauce to warm through briefly and give it a squirt of lemon juice right at the end just to liven things up. Serve with crusty bread, rice or pasta.
tips, tricks and trivia
Quick tomato sauce for pasta
If you prefer a super quick tomato sauce for these polpette instead of the cream sauce, simply:
Fry one red onion in plenty of olive oil until soft. Add two finely sliced cloves of garlic, two tins of tomatoes, one bay leaf, a pinch of red chilli, a teaspoon of sugar and half a beef stock cube.
Turn the heat right down, cover and cook for 5 minutes. Remove the bay leaf and blitz sauce in your food processor or with a stick blender until smooth. Return the sauce to the pan to heat through and stir in a couple of tablespoons fresh cream. Taste for salt and adjust as necessary.
enjoy with
Now I know the rule of thumb when it comes to wine and food pairing is red with red and white with white. That for me is a general rule that I consider briefly… and then break with impunity.
Yes, I know there is red meat in these polpette, but there is also pork, and there is parmesan and loads of cream. So I think a good medium-bodied Chardonnay does nicely with this. My choice is Lanzerac's recently released 2015 Chardonnay. For me Lanzerac is one of those no-brainer wine estate choices because they consistently deliver excellent quality that boxes way above their price points. The grapes for their 2015 Chardonnay come from seven different vineyard blocks in Stellenbosch's Jonkershoek Valley, varying in age from 10-22 years.
With a combination of new and old French barrels used, the wine delivers a lovely smooth mouthfeel without being overpoweringly 'oaky'. It's crisp and zesty yet creamy with a perfect balance of juicy fruit. Really an exceptional choice at R105 online at time of publication.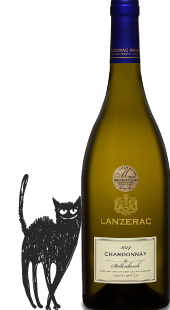 Print this recipe