When it comes to a braai, I'm as fond as the next guy of chop-'n-dop. But see here's the thing – I suffer from a terminal case of DGS (Domestic Goddess Syndrome). I may not be one, but I do rather try, so for me chop-'n-dop simply doesn't cut it for guests, even if it is just a braai. When I have folks around I invariably opt for a big beastie on the Weber. It's just a bit more elegant. Like my leg of lamb packed with Mediterranean flavours, or pork loin with fennel, or seriously beefy silverside that I serve with loads of mustard. And of course my favourite, favourite – roast chicken. This one with rosemary, lemon and garlic just shouts celebrate. Happy National Braai Day!
All you need is…
1 large free range chicken
3 tbs butter, room temperature
4 fat cloves of garlic, unpeeled
3 lemons
few sprigs of rosemary
olive oil
sea salt (I prefer Maldon)
ground black pepper
Gently pry the skin over the chicken breasts loose and push butter underneath (breasts are the driest part of a chicken, and this helps to keep them super juicy). Place the garlic cloves, rosemary and half a lemon (or two halves if it's a very big chicken) inside the chicken. Rub skin with olive oil, sprinkle with salt and pepper and place in the middle of a kettle braai (Weber) with a drip tray underneath. Cook until done with the lid on. As a general guide, a roast chicken takes an hour in a Weber, but it may require a bit longer depending on size and how hot your fire is. (To test whether the chicken is done, slice into the section where the thigh connects with the body – if the juices are still pink, it's not done. The juices must run clear.)
Remove the chicken and allow it to rest for at least 15 minutes, preferably a bit longer. Slice the remaining lemons in half and place them face down on the braai, they'll develop lovely scorch marks and caramelise. Serve the roast chicken one a large platter with some rosemary sprigs and the pretty seared lemons for folks to drizzle over. The liquid that escaped during cooking and gathered in the drip tray is gorgeous, so pour that into a little jug along with any juices that emerged while the chicken rested and place it on the serving platter as well.
I love serving this roast chicken with a simple mixed-leaf green salad tossed with vinaigrette. If you can find some nasturtiums (they're out everywhere right now) toss them in as well, just for the pretty. I also whip up a little garlic mayo by squeezing a few of the roast garlic cloves into quality store-bought mayo. Add a crisp ciabatta and my smokey corn on the braai and you have a feast that's simple but elegant.
good to know
Asparagus on the braai…
Early-season asparagus is out now and it's delicious on the braai. Simply toss them in olive oil and on the coals they go. They only need a few minutes. If they're thin, they can go straight on. If they're a bit meatier, I start the process by boiling them for a minute or two, then shocking them in ice cold water before patting them dry and brushing with the oil.
A sprinkling of sea salt, a drizzle of the caramelised lemon, a healthy dollop of the garlic mayo and all is right with the world.
enjoy with
It's time for another Chenin. Villiera's spends four months in oak, half of it in new French oak, giving you a wine that's creamy yet fresh, complex and delightful. Oh, and did I mention it's a Top Ten Chenin winner in the new Standard Bank Top Ten Chenin challenge?
With a cellar price of R95, this is a special occasion Chenin. But then I think National Braai Day is just a bit special.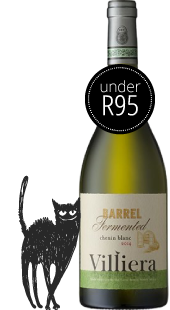 Print this recipe