I sometimes worry about the amount of time I spend contemplating totally pointless things. Like wondering what animal I would prefer to have with me if I were marooned, Robinson Crusoe-style, and had to fend for myself for the rest of time. The answer is pig. I simply cannot think of any meat more versatile than pork. Think bacon, German sausages, French country paté, Chourico, Coppa, Prosciutto… And then there is my favourite, favourite – roast pork with seriously crisp crackling.
Now my instinct with most meat is to do as little as possible to it and let the quality of the meat shine through. But pork and fennel are BFFs. So when the weather turned nasty in Cape Town over the weekend and roast pork loin for Sunday lunch seemed like a good idea, I rubbed it with a bit of fennel salt and roasted it on a bed of carrots, red onion and fennel. Savoury with just a touch of sweet, perfumed and juicy, it was delectable.
Because the weather was rubbish, I figured I deserved some – dare I say it – carbs. I had orange sweet potatoes in the fridge. So I mashed them and drizzled them with a sage brown butter (beurre noisette). To cut through all that richness and feel a bit self-righteous, I served it with a rocket, watercress and pomegranate salad with lemon vinaigrette. All in all a pretty elegant Sunday roast meal.
More easy pork recipes: Check out my fennel and pork burgers. Fancy something super fast? Try my parmesan and rosemary pork schnitzel. And for the ultimate in comfort food, smokey beans with pork. Enjoy!
All you need is…
Pork loin roast (6 chops), ask your butcher to cut halfway through the bone of each chop, that way it's easier to carve at the table
1 tsp fennel seeds
1 tsp sea salt or Himalayan salt
1 large red onion, peeled and quartered
one fennel bulb, quartered
two large carrots, peeled and quartered
olive oil
apple cider or apple juice
5 orange sweet potatoes
juice of one orange
3 tbs butter
6 sage leaves (fresh, not dried)
salt and black pepper, to taste
Score the pork rind (about 1cm apart) using a super-sharp chef's knife or a craft knife (Stanley knife). I find the latter works best. You want to cut through the rind and into the fat, but not the meat. Pat the roast dry and place, uncovered, in the fridge for at least five hours (but preferably overnight). This helps to dry the rind out a bit, making for extra crisp crackling. Heat the oven to 245 degrees Celsius. Grind the fennel seeds and salt together in a pestle and mortar until fine. Rub the roast with olive oil and sprinkle all over with the fennel salt mix. Ensure that you rub it into the cuts as well.
Place vegetables in a roasting tray. Drizzle with a touch of olive oil (a teaspoon should do the trick) and toss to ensure the veggies are all very lightly coated. Place the meat on top of the vegetables and place in the oven. Turn temperature down to 220 degrees Celsius after 15 minutes and roast for a further 40-50 minutes. Remove from the oven and insert a meat thermometer into the thickest part of the roast.  If it is 63 degrees Celsius (145 degrees Fahrenheit) in the middle, it's ready. (Old school says take it to 70 degrees, but pork dries out easily, so if you want it juicy, 63 is what you want.) If your crackling is not 'crackly' enough for your liking at this stage, turn your grill on. As soon as it's red hot, pop the pork under it for a minute or two. Don't overdo it, as you will overcook your pork. Like all meat, this pork roast should rest a bit before you serve it. Bear in mind also that crackling bits that may look a bit soft, will crisp up as the pork rests. Remove the roast from the pan. Keep the veggies in the pan and place it on a low heat. Add a few tablespoons of apple cider or juice to the pan to deglaze it. Stir to dissolve all the lovely dark, crusty caramelised bits on the bottom of the pan. Strain and set aside to serve with the pork.
While your pork is in the oven, wash and peel the sweet potatoes. Cook in boiling water with a generous pinch of salt until soft. Mash and add enough orange juice to get the consistency you like. Add black pepper and salt to taste. You need more than you think because, you've got it, salt is flavour! You can make the mash up to this point beforehand, then warm it through and add the brown butter just before you serve. To make the sage brown butter (beurre noisette), melt the butter in a stainless steel pan. Black-bottomed pans, like non-stick ones, are not great to use for this, as it's harder to tell when the butter is brown. Pop the sage leaves in. The butter will start foaming after a few seconds and then start browning. When it is a lovely nutty colour, it's ready to pour out.
This entire process only takes a minute or two, so keep an eye on it throughout and remove the sage leaves as soon as they start crisping. (If you take it too far and the milk solids burn and become black, throw it out and start again.) Stir one tablespoon of the brown butter through the warm mash. Then drizzle the remaining butter over the top and scatter over the sage leaves. A final grinding of black pepper and maybe a pinch of Maldon salt and you're ready.
tips, tricks and trivia
Easy lemon vinaigrette
I love the freshness lemon lends to a vinaigrette. Mix 2tbs lemon juice with 6tbs extra virgin olive oil. A generous pinch of salt, a grinding of black pepper, done.
You can also add one clove of garlic and a teaspoon of Dijon mustard to it. Simply place all the ingredients in a bottle and allow it to stand for a few hours for the flavours to blend. I prefer cutting the garlic in half and removing it before I use the vinaigrette. If it's finely chopped, it tends to overpower the vinaigrette… and you get odd looks at the office the following day!
enjoy with
Pork is one of those beasties that can handle white, rosé or red wine. As this dish has a nice fatty layer, I prefer something with good acid. If you're thinking white, try a complex Sauvignon Blanc. If you're thinking red, Pinot Noir is perfect. Pinot is a temperamental – and hence pricey – varietal. Finding a good one under R150 is quite a feat.
At about R100, the 2012 De Bos Walker Bay Pinot Noir is a quality offering and excellent value.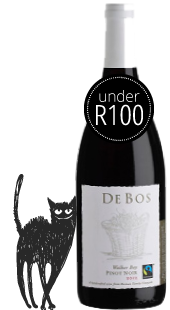 Print this recipe