I adore any cut of beef, but I'm especially fond of the ones that need a long time in the oven, and emerge fall-off-the-bone soft and lip-smackingly luscious – cuts like oxtail and short rib. I make this casserole on lazy Saturday afternoons, when there's rugby on the tele and the world seems like a fine place. The flavour follows me from room to room and drives Merlot mad with expectation. (She never gets a look in.) This is so simple. Just beef, carrots, bacon, onion and red wine. You could add some rosemary, a bay leaf or thyme. But sometimes I like leaving well enough alone, and allow the rich beef short rib to speak for itself.
All you need is…
1kg beef short ribs, cut in big blocks
100g bacon, cut in small blocks
1 large onion, peeled and chopped
2 cloves of garlic, peeled and cut in half
4 large carrots, peeled and cut in big pieces
1 T tomato paste
500ml red wine
400ml beef stock (1 cube should do)
salt
black pepper
5 T cake flour
4 T olive oil
Flat leaf parsley
Season the flour with a quarter teaspoon salt and a grinding of black pepper. Dredge the beef through the flour and shake off any excess. Heat a frying pan, add the olive oil and fry the beef in small batches until golden brown. Remove and place in an ovenproof casserole with a lid. Fry the onions and bacon in the same pan. As soon as the onions are golden brown, add one tablespoon flour and fry for another minute. Now add the tomato paste and garlic and fry for another minute.
Add the red wine and cook for a further minute. Be sure to loosen all the glorious caramelised bits on the bottom of the pan. It's pure flavour. Now add the carrots, stock and a quarter teaspoon black pepper. Add the lot to the meat in the casserole, cover and cook slowly in a medium oven (170 °C) for three hours. Check occasionally to see if it needs a bit of water. When the meat is soft, it's ready. Taste to see if it needs salt, then add a huge handful of roughly chopped parsley. It's perfect with mash.
good to know
My secret for awesome mash
Always use a nice floury potato, not a waxy variety. I don't peel my potatoes when I make mash. I boil them whole in their skins. Or, if I am feeling fancy, I roast them whole in the oven. Once cooked, peel and mash with milk, a very generous helping of butter, lashings of salt and… a good few tablespoons of cream. Better yet? Grate in some pecorino too. Not the healthiest way to serve potatoes, granted, but as an occasional treat, so nice.
enjoy with
Beef can handle something big hitting like a Cabernet Sauvignon. One of my top-value favourites is Beyerskloof's 2011 Cabernet/Merlot blend.
Rich ruby in colour thanks to the 55% Cabernet, yet medium bodied, soft and accessible. Wonderful plums and cassis fruit and just a touch of spice. It's really good every-day value at about R60.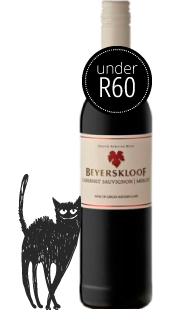 Print this recipe