It's no secret that I'm partial to a touch of pink. So when a cheeky little Roodeberg rosé came knocking on my door the other day, care of the fine folks at KWV, well, obviously I had to invite it in. And open it. And taste it. And then taste some more – just to make doubly sure.
Now as much as I love rosés, I loathe them if they are sweet. And, even if they are dry, I don't particularly like them if they are too aggressively New World in style. The restrained French vibe is pretty much my ideal for a rosé, which means that in SA, with its abundant sunshine and occasional showoff mag-wheel approach to fruit, I can be disappointed. Fortunately not with this one. While it is fruit-forward, it's perfectly balanced, dry and crisp.
Which naturally lead to the next step – I had to make something to eat with it. Pink had to feature on the plate. Of course. And when it comes to pink food, very few things best smoked salmon. I love it just as is with black pepper and a dash of lemon, or with farfalle pasta with sinful amounts of cream. And I really like it on a bagel or rye with lots of cream cheese, cucumber and a sprinking of dill. Hmmmm.
So I took that thought and ran with it a bit to see where it would take me – and here it is: Smoked Salmon Cheesecake with Cucumber and Dill Salad.
All you need is…
For the shortcrust pastry
200g flour
120g butter, ice cold and cut in small blocks
¼ tsp salt
3½-4 tbs ice cold water
For the filling
250g cream cheese
250g crème frâiche
4 jumbo eggs
¼ tsp black pepper
¼ tsp salt (it may seem little, but as the salmon can be salty depending on the brand, I prefer being cautious and rather adding at the table)
200g smoked salmon offcuts
1 tbs fresh chopped dill
2 tbs fresh chopped chives
For decorating
80g quality smoked salmon, torn into ribbons
micro leaves and micro veggies
To make the pastry, add the flour, salt and butter to your food processor and pulse until the mixture resembles breadcrumbs. Add the water and blitz just until the dough comes together. Turn out onto a lightly-floured surface and shape into a ball. Use a lightly-floured rolling pin to roll the dough out to 3mm thick. Turn a large plate upside down on the dough and use it to trim off the edges so you end up with a perfect circle.
Line a greased spring-form cake tin with the pastry. Prick the base generously with a fork, place tin foil on top and pour in baking beans. (If you don't have baking beans, raw rice does the trick nicely.) Bake blind at 220 degrees Celsius for 15-20 minutes. Remove the baking beans and tin foil. Prick the base again and back in the oven it goes for another 5-10 minutes until cooked through and golden. (HOT TIP: To prevent your base from becoming soggy once you add the filling, lightly brush it with egg white before you pop it in the oven for the second time, it helps to seal the pastry.) Remove and allow to cool (but keep it in the tin).
Mix the filling ingredients and pour into the base. Bake at 160 degrees Celsius for 45 minutes, then turn the oven off (but keep the door closed) and keep the cheesecake in the oven for a further 45 minutes – it continues cooking, so even if the middle looks very wobbly at this stage, it turns out just fine and perfectly set.
Serve at room temperature decorated with a sprinkling of micro leaves and some gorgeous quality smoked salmon torn into ribbons. I love the crunchy contrast of micro veggies and cucumber and dill salad with this (see tips, tricks and trivia below).
tips, tricks and trivia
Cucumber and dill salad…
Use a veggie peeler to peel a cucumber lengthways – you want lovely long ribbons. Mix 2 tbs chopped fresh dill with 2 tbs rice vinegar, a pinch of salt, a generous grinding of black pepper and a teaspoon of sugar. Pour over and serve immediately.
enjoy with
A dry rosé is perfect with this. KWV's Roodeberg Red has been around since 1949. This Shiraz-dominant rosé blend is a welcome addition to this iconic South African label.
It's elegant, crisp and dry with lovely strawberry, raspberry, white peach and a touch of spice. Definitely one of my rosé choices for this summer.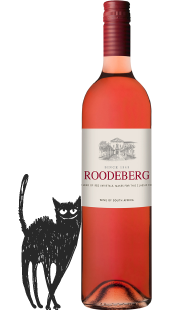 Print this recipe