Corn on the cob (or as we South Africans prefer to call them, mealies) remind me of cute grade one kids with missing teeth and ponytails.
I'm not referring to the sterile shop versions that have been plucked, waxed and topped and tailed until they're perfect physical specimens. I'm talking proper corn on the cob, the ones sleeping soundly inside their cocoon of green leaves and wispy yellow beard. Strip the leaves down and you end up with a handy ponytail by which to grab them for easy turning on the braai (barbecue). They're far from perfect because, unlike the shop kind, they still have their pointy bits, which pretty much always miss a few kernels. But this, for me, is part of their charm. Last Saturday I was lucky enough to find 'proper' mealies like these at the Oranjezicht City Farm Market.
There are two schools of thought when it comes to cooking mealies. The one boils them. This works pretty well as they come out super juicy. But they lack the deep smokey flavour of a braai. The other school chucks them on the braai. This gives them plenty of flavour, but the kernels mostly end up dry and tough, and I have to drink rather a lot of Chenin to force them down. Not that I actually need an excuse to drink a lot of Chenin.
So just how do I get mealies that are super juicy and smokey? Well, it's what I call the Boil-'n-Braai. First they go in a pot of lightly salted water to be boiled until they're just tender. Then I strip back the husk and chuck them on the braai for five to ten minutes. This will give me those gorgeous seared marks I want, but it's not long enough to give me deep smokey flavour. So I help things along a bit by basting them generously and repeatedly with a smokey butter. This is so easy, I'm almost embarrassed to call it a recipe. But it's so nice that I thought I'd share it anyway.
All you need is…
6 mealies (corn on the cob)
60g butter
¼ tsp smoked chilli flakes (Woolies has)
½ tsp smoked paprika
1 tsp smoked salt (Maldon, stocked at most major supermarkets, has a smoked version. Woolies also does.)
Boil the mealies, in their husks, in lightly salted water until just done (20-25 minutes). Strip back the husk but leave it attached to the base.
Melt the butter and add the spices and salt. Place cooked mealies on the braai and paint with butter, turning occasionally to make sure it's painted and seared on all sides. Serve sprinkled with chopped chives or flatleaf parsley. Also serve with extra smoked salt and some chopped red chillies on the side for those who like it really hot 'n smokey. See, I told you it's easy.
tips, tricks and trivia
Easy corn salsa
You can cook the mealies according to the recipe above, then cut the kernels off the stalks. Mix with finely chopped red onion, chopped coriander leaves, diced cherry tomatoes and a squirt of lime juice for an instant corn salsa that's perfect for any braai.
You can even serve it with nacho chips, guacamole, some Tabasco and sour cream for a pretty awesome nibble.
enjoy with
I love Almenkerk's 2012 Lace Sauvignon Blanc as an easy, lazy lunchtime quaffer. It has good expressive fruit with some floral notes and lovely balanced acidity. Now I tend to trust my palate and not awards when it comes to wine. But contests are blind tasted by chaps who know an awful lot about wine, so they do serve you well as a general guide of quality.
The 2012 Lace SB is a 2013 Vitis Vinifera Gold Medal winner and Silver Medal winner in the 2013 International Wine & Spirits Competition. Pretty impressive stuff for a wine that sells for R75 at the estate.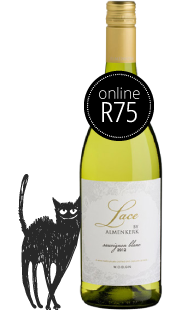 Print this recipe