My introduction to Welsh rarebit was not exactly auspicious. We're talking London many, many moons ago. I was slaving away in big kitchens for about two pence an hour. It involved hairnets and lots of frying. Enough said.
On this particular day in this particular kitchen in a VERY fancy department store (you know, the kind of place where Princess Di used to shop) one of the waitresses didn't pitch. The main fish-'n-chip fryer/bottle washer/mopper upper – ergo moi – had to stand in. I'd put myself through varsity humanities by waitressing at Mike's Kitchen in Greenside Joburg, after all, so I was obviously well qualified to wait tables.
Things went swimmingly, until I got an order for Welsh rarebit. I wrote it down dutifully, repeating the order to make sure I got it right. "So that's one rêbbit hey?" Now I don't think my vowels were quite THAT flat, but the twinset-and-pearls lady-who-lunches looked like she was in pain, so I suppose it's possible I had assaulted her delicate English ears. The head chef pointed out the error of my simple colonial ways, informing me (a bit sarcastically I thought) that rabbit doesn't feature in rarebit. What does though, is cheese in its most seductive form – melted.
There are as many Welsh rarebit recipes as there are days in the year, but in essence cheese meets liquid to form a thick cheesy spread. Slap it on toast, whack it under the grill and you've got yourself Welsh rarebit. Regardless of how you make it, the one thing you do need is really excellent cheese, specifically cheddar. One knows a good mature cheddar cheese by its texture (it's crumbly not waxy) and its taste (so tangy it has a slight peppery burn). Healey's Slow Matured Cheddar is such a cheese (read more about it below), so when a block of the stuff came knocking on my front door, I was mightily pleased.
For me a decent Welsh rarebit also has to contain egg yolk and beer. Things other than beer can be used to form the cheesy paste: like cider (I find it too sweet), stout (too overpowering), port (just plain scary) or milk (too insipid). No, it has to be good old lager. I just love the way its rich, hoppy, malty bitterness complements strong cheddar.
I nix the slices of toast, choosing instead to turn it into a fun, substantial main meal by slicing open a very crusty baguette. I also whip up the egg whites and fold them into the cheese spread. No point wasting good protein. Bake it for a few minutes and it puffs up wonderfully, effectively turning it into what I guess you'd call a Welsh rarebit soufflé. A touch of Mrs Ball's chutney is pretty much obligatory. A few rosemary-roasted baby tomatoes go on the plate too, just to show we're a bit classy down here in Sefakrika.
All you need is…
3 tbs salted butter
3 tbs cake four
1 cup beer
3 cups grated good mature cheddar cheese
1 tsp Dijon mustard
1 tsp Worcestershire sauce
large pinch of salt
2 eggs, separated
large very crusty baguette
Melt the butter over low heat in a thick-bottomed saucepan. Stir the flour into the butter then add the beer, mustard and Worcestershire sauce, whisking constantly to prevent any lumps forming. Once smooth, continue cooking over low heat for a few minutes until it's luscious and thick. Remove from the heat and immediately stir in the cheddar until it's all melted into the sauce. Add the salt and taste to see if it's enough. Allow this mixture to cool down a bit, then whisk in two egg yolks. (If you add it when it's very hot, the eggs may scramble.) Now, if you are making traditional Welsh rarebit, simply spread this mixture on slices of toasted bread and briefly place it under a hot grill. Give it a dash of extra Worcestershire sauce and tuck in.
If on the other hand you want to go the fancy soufflé route, allow this mixture to cool to room temperature. Cut open a very crusty baguette lengthways and toast the cut side under a hot grill. Whisk the egg whites in a separate clean bowl until they're white and stiff, then use a metal spoon to gently fold the whites into the cheese mix. Spoon this mix onto the toasted baguette and bake in a preheated 180 degrees Celsius oven (on conventional oven setting, not fan) for 5-7 minutes until the cheese is puffed up and golden on top. Serve immediately because like anything that has the word soufflé in it, this puppy doesn't get any better with age.
tips, tricks and trivia
How to make rosemary-roasted tomatoes
Wash baby cherry or rosa tomatoes and dry. Give them a generous glug of olive oil, break in a large sprig of rosemary and tumble onto a baking tray lined with baking paper (for easier cleaning). Give it a generous grinding of sea salt and black pepper and roast in a 180 degree Celsius oven for 10 minutes.
Healey's Slow Matured Cheddar
Made on the picturesque Waterkloof estate in the Helderberg, Healey's Slow Matured Cheddar follows a traditional recipe a hundred and fifty years old. There is no nasty yellow colouring, no preservatives and the cheese is matured in muslin cloths in a cave-like environment to encourage mould growth. Now before you go eeeuw, it's exactly this process that gives Healey's its depth of savoury flavour and nuttiness. I just love it.
But don't take my word for it, consider that this cheese was crowned champion at the South African Dairy Championships 2015 in the 10-18 months Cheddar category. Its Slow Matured Single Release Cheddar was judged the second best round cheddar in the world at the 2014 World Champion Cheese Contest in the USA. Not bad for old milk!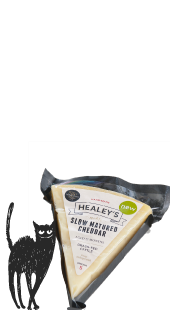 Print this recipe