All my friends know by now, if you want to see me, invite me for lunch. Because being the exceptionally glamorous person that I am, I prefer to spend my evenings in slouchy pants, on a slouchy couch, with a cat on my lap and a remote in my hand. These frightfully unsociable instincts are multiplied a hundred times over in winter, reaching their epoch when it happens to be raining.
But occasionally a dinner invite comes along that is just too good to resist. Such was the case last Saturday, when the folks from Cape Town's Taj hotel invited me to join them for a 4-course dinner specially developed to showcase the wines of La Motte. Say Taj and their fine dining authentic Indian restaurant, Bombay Brasserie, immediately comes to mind. That, or their newly-refurbed Mint Restaurant and Terrace. But this particular paired dinner would be held in the curiously-named The Vault that, it turns out, actually used to be one.
The descent into the old vault (the building used to be a bank) is intriguing enough, but was made all the more interesting with a glass of La Motte's 2015 MCC as a rather fine welcome. There's nothing that La Motte puts in a bottle that I do not like. But this MCC with its complex yeasty, toasty top notes backed up by nuttiness and loads of pear, happens to be one of my favourite MCCs. Retailing online at R360 a bottle, it is a rare treat for me to be able to sip this bubbly beauty.
The Vault is a fantastically different spot to have dinner. Theatrically lit old vault arches house a wine collection. The original thick vault bars (where one imagines the gold and other glittery stuff was kept safe) are still there too. The ceiling is low, and the entire space candlelit, which means it's intimate and very welcoming, a bit of a warm architectural hug on a cold night.
Dinner started promptly at 7:30, but canapés were served from 6:30. Following the canapés, was a substantial bread board. Put a selection of bread and two different flavoured butters in front of me and it's open season folks. But the waiting staff were excellent, because the bread board came with a discreet warning that dinner is substantial.
I was not to be disappointed. The first course was cured and spiced salmon, with Thai emulsion and baby beets, served with La Motte's 2018 Pierneef Sauvignon Blanc. This Franschhoek wine estate has a collection of very beautiful Pierneef originals and their ultra-premium Pierneef range of wines surely live up to the beauty of those images.
The salmon was melt-in-the-mouth with the pronounced lemongrassy notes of the Thai emulsion (ergo, little dots of creamy deliciousness) a fabulous foil for the richness of the salmon. I adore the roundness a touch of Semillon adds to a Sauvignon Blanc. The 2018 Pierneef SB is 88% Sauvignon, with Semillon making up the rest. As can be expected of a fine wine, it spent some time on fine lees, in this case five months, before it was blended and bottled. It has the fruit notes I so love, with citrus being prominent, along with Cape gooseberries in the background. I also happen to love green notes in my SBs, and this one has just enough green pepper to make me happy along with a subtle mineral end to boot. Retailing at R135 online, I consider this to be fabulous value for a premium Sauvignon.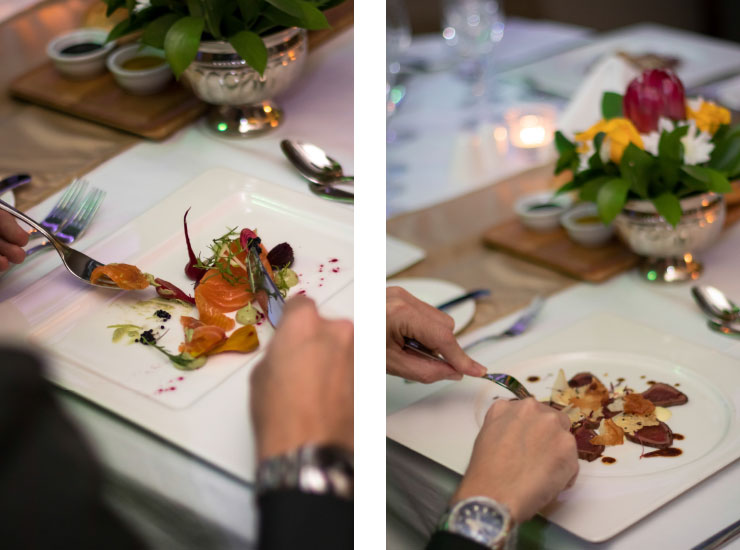 The entrée consisted of venison carpaccio served with turnip puree and crispy Grana Padano. Delicious. Again the wine was from La Motte's Pierneef range, this time their 2016 Syrah Viognier. This wine is a blend of 95% Shiraz and 5% Viognier. The Shiraz component is from Elim (60%) and Walker Bay (35%) while the Viognier (5%) originates from Franschhoek. On the nose it had notes of mulberry, pepper and licorice. On the palate it was soft and silky, with finesse and freshness in the finish. Lovely. To the extent that I asked for a refill and the staff cheerfully obliged. I am sure that there are pairings where they serve as little wine as they can get away with – not this one, the glasses were generous and there were no dark looks when the refill came.
These two courses done, there was a delightful amuse bouche pause in the form of an exceptionally pleasant beetroot and red wine sorbet that came to the table in a dry ice haze. Just enough dinner theatre to make diners get those cell phones out.
The main was braised beef rib bourguignon (fall off the bone perfect) with buttered mash (sooo silky I think puree would a more appropriate discription ) and Shimeji fricassee. It was paired with La Motte's 2016 Cabernet Sauvignon (R135 online). Its intense varietal nose delivers blackcurrant, violets, mint and slight plum. Heavy-bodied, yet rounded, it was the perfect match for the richness of the main.
It was a good thing that I was warned about going too 'bos' on the bread because the portions are very generous, considering it's a 4-course pairing dinner. I was contemplating undoing the top button of my classy black skinny jeans (I ditched the slouchy sofa pants) as dessert arrived. There was no way I was saying no. The apple cardamom tatin, beautifully offset with a very fresh naartjie and ginger sorbet, was paired with La Motte's straw wine. Now as you probably know, sweet with sweet is the general rule in pairing. A Viognier, this wine delivers an intense nose of dried apricot, almond and distinctive jasmin. The finish is smooth and silky and, very importantly, there is just enough acid to balance the sweet. Sadly their straw wine is currently out of stock on La Motte's site, so bag this one for next season.
So what's the low-down? 1) The food is lovely. 2) The portions generous for fine dining. 3) The pairings spot on. 4) The service excellent and the venue just plain fun. What's the cost of this night out? R495 a person. Now before you start measuring this against what a steak and a glass or two of wine would cost at your local steakhouse with jumpy castles, think about the fact that this is probably the only way you can get to taste wines of this quality with four courses of fine dining without dipping into the mortgage. I consider it seriously good value for what you get.
Taj will be holding more special 4-course pairing dinners in The Vault over the coming months. Here's what you can look forward to:
Friday 26 July, Creation
Friday 30 August, Paul Cluver
Friday 13 September, Anthonij Rupert
Friday 4 October, Tokara
Friday 25 October, Klein Constantia
Friday 15 November, Simonsig

Booking is of course essential. Call +27 21 819 2000. Mail restaurants.capetown@tajhotels.com. Visit them on Facebook.
Picture credit: All pictures kindly supplied by The Works Brothers, Francis and Nathan
About this article: I only write about places and things I actually really like. Should I receive complimentary meals/tickets/diamonds, this will always be revealed. I'm not in the rubbishing business, so if something is not my cup of tea, I'll simply not write about it (but I'll keep the diamonds). Therefore this is not so much a review, as a personal recommendation of places and things I like.

Print this recipe