Cattle, much like cats, aren't known for their ability to take direction. Which is why every cattle or dairy farm I've ever been to has a cattle crush. What is it? Think of a passage with fences on either side. Cattle go in one end and patiently queue for whatever awaits at the other end.
On good days, it's just a quick dip in some foul-smelling stuff meant to kill ticks. But young bull calves inevitably have a bad day in a cattle crush, when they queue to have their sensitive bull-bits snipped.
I saw this for the first time on a friend's family farm outside Thabazimbi. The whole thing was over in seconds and, surprisingly, the calves (now bullocks) didn't seem too traumatized. But as a 13-year old, I was pretty appalled.
Whenever I find myself queuing in Woolies, my mind invariably wanders back to those bullocks in the cattle crush. Pain also awaits me at the end of the Woolies people crush, for the basket in my hand usually liberates me of quite a few blue randelas.
It's not helpful that sweets have an annoying way of jumping into my basket while I'm doing my docile bovine bit in the queue.
An incorrigible slab of Lindt vanilla white chocolate followed me home the other day. After I'd made doubly sure it's delicious (it took a whole slab) I went out and invited another one home. And then I made this…. vanilla white chocolate mousse with a chunky raspberry coulis. This is definitely impress your girlfriends/boss/future husband stuff.
All you need is…
3 large egg yolks
100g Lindt vanilla white chocolate
320ml cream
3 tbs castor sugar
1 tsp vanilla extract (not essence!)
1 punnet fresh raspberries (frozen also works)
Beat the egg yolks, 2 tbs sugar and 70ml cream. Place it in a double boiler and whisk over a very low heat until the mixture is thick enough to coat the back of a spoon.
Add one teaspoon vanilla extract and break the chocolate into the custard mixture. Take off the heat and let the chocolate slowly melt. Stir through to ensure it's smooth and place in the fridge for at least two hours to chill.
In the meantime, prep your raspberries. Simply crush them with a fork and add one teaspoon of castor sugar. Set aside.
Once the egg/choccie mix is thoroughly chilled, whip the cream with one tablespoon of castor sugar until firm. Gently fold the cream into the egg mixture. Place in individual ramekins and chill in the fridge.
Serve with a generous dollop of raspberry coulis. The contrast of the creamy richness and the fruity acidity of the raspberries is just heaven. If you don't want to use raspberries, serve each ramekin with half a granadilla for your guests to scoop out over the mousse. You can make this recipe the day before and keep (covered of course) in the fridge until you serve.
good to know
What is the difference…
…between Champagne and Prosecco? A bottle of bubbly may only be called Champagne if it comes from the Champagne region in France. It's a wine that is fermented twice, with the second fermentation happening in the bottle. Champagne may only be made from Chardonnay, Pinot Noir or Pinot Meunier grapes. (Our local version of this is called MCC – Méthode Cap Classique.)
Prosecco is made from Prosecco grapes and must come from the Prosecco region in the Veneto (north-east Italy). It's also fermented twice, but it's done in large stainless steel tanks and not the bottle, making it much more affordable than Champagne.
enjoy with
I just love a bubbly with a light frothy dessert like mousse. We have tons of awesome local ones, but occasionally I stray and buy something foreign. Italian Prosecco is just a delight.
Woolies stocks Dolce Vita Prosecco. It normally sells for R74,95, but I see it's marked down to just R49,95 right now. I'm rushing out today to grab a few. Christmas is around the corner, after all!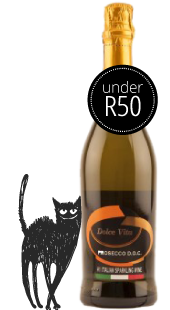 Print this recipe