Hit the N2 out of Cape Town and if the traffic is good (which these days is a pretty big if) you get to Sir Lowry's Pass in under an hour. In mere minutes you climb over 400m above sea level and, once you get to the top, a whole different world unfolds before you. You're in the Overberg (which literally translates as 'over the mountain').
Elgin is apple and pear country, but it's also wine country, with a terroir that is unlike any other wine region in South Africa. It's cool-climate wine country, where the height above sea level combines with sea breezes from the nearby Atlantic to deliver grapes that express a brilliant purity of fruit. Elgin Vintners is one of the pioneers in this cool-climate region, so when I was invited to visit, I jumped at the chance.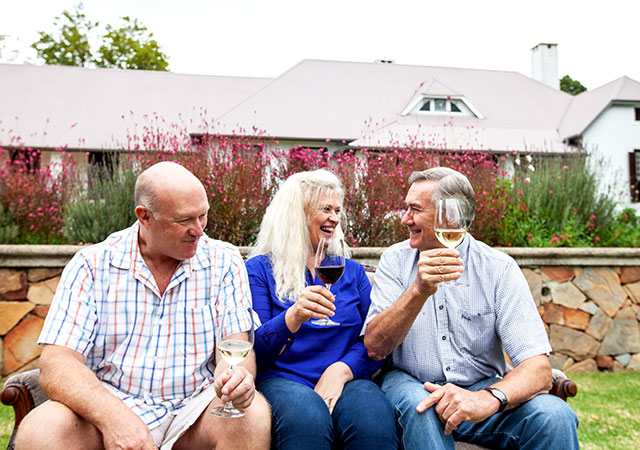 The Elgin Vintners team, from left to right: James Rawbone-Viljoen, Marinda Kruger-Claassen and founder Dr Max Hahn.
Founding partner, Dr Max Hahn, acquired the Elgin Orchards farm, home of Elgin Vintners, in 2001. But his association with this jewel in the Elgin valley goes way back – back to when he frequented the farm as a young boy. Degrees in science and medicine and a long career in business gave him a unique perspective on the business of making wine.
For many, there is a romance about growing vines and making wine. For Dr Hahn, diversifying into grapes was a business decision prompted by a downturn in the apple industry, increasing signals of global warming, and expert views that the cool climate and unique terroir of the Elgin valley had the potential to make excellent wines. He was right of course, because twenty years on some of our most exceptional wines come from this valley and from the Elgin Vintners label.
The team at Elgin Vintners is tight-knit and passionate about what they do. Fellow owner, James Rawbone-Viljoen's focus is not just on the making of wine, but the selling of it, opening up new markets for Elgin Vintners through personalised wine tasting experiences and giving the brand a face and a personality.
Elgin Vintners' winemaker, business manager and newest shareholder, Marinda Kruger-Claassen, traveled the world experiencing harvests and wine making in Europe and Australia. When the chance to make wine in this cool-climate region came along, she jumped at it. "Our grapes ripen at a relaxed pace here, no stress. Anything that takes longer is better, I believe – more flavours form, tannins ripen and aren't green, sugars are low, and all is in balance with the natural acidity."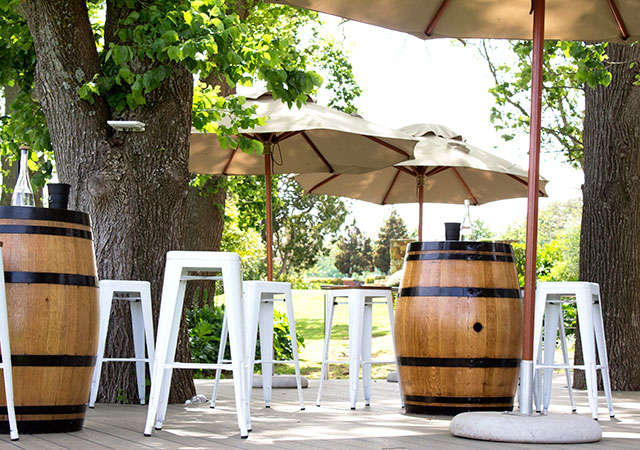 Being guided through an exploration of her award-winning 'babies' was a real privilege. Naturally the focus is on grapes that do well in cool climate conditions: Sauvignon, Chardonnay, Pinot Noir and Shiraz.
We sat down for a paired cheese and wine tasting in the beautiful new tasting centre with exquisite views to the mountains that encircle this valley. What an experience. And it's one you can have too because there are various tasting options on offer at Elgin Vintners.
If you're feeling nibbly, there's a savoury platter (a selection of droëwors and biltong) on offer, light meals like quiche and salad and seriously super pizzas with crispy thin bases and imaginative toppings. I don't use words like 'seriously super' lightly, because I'm a bit of a foodie fusspot. These were some of the nicest slices I've tucked into in a long while. Of course no wine farm offering would be complete without picnic options. At Elgin Vintners you can choose between a picnic box for two or for four.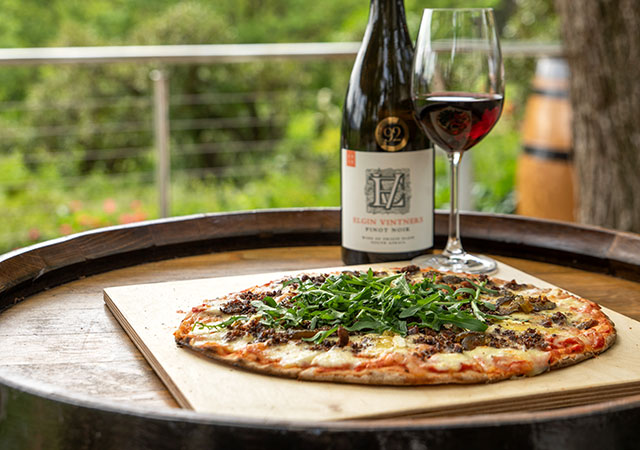 The setting for all this sipping and nibbling is pretty sylvan – rolling acres of green pastures, mountains in the distance, ancient oak trees and a large English-style garden where the fragrance of lavender and roses assaults the senses.
All this natural beauty makes Elgin Vintners an exquisite country venue for weddings. The cherry on top is the 4-star manor house. Built to a Herbert Baker design in 1927, it has been sensitively restored and decorated in luxurious classical style with all the mod cons. It sleeps 10 people, so it's ideal for the bridal party and close family. Of course one doesn't particularly need a wedding as an excuse to book the manor house for a special getaway in this valley. Did I mention there is a tennis court, pool and access to braai facilities?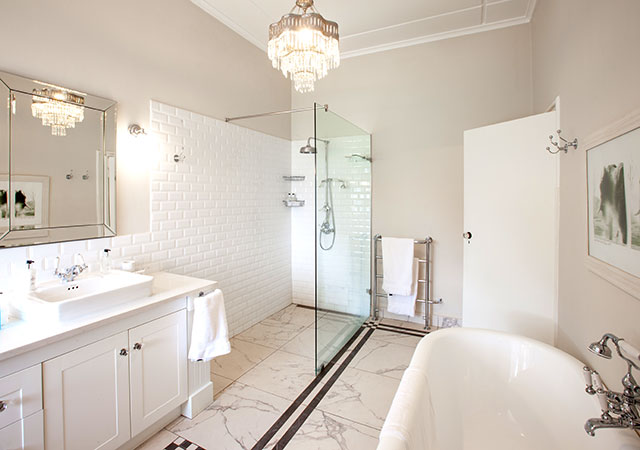 Whether you stay the weekend or just make a day of it, Elgin Vintners really should be on your summer holiday must-visit list. It's a mere hop, skip and jump off the N2, so there really is no excuse for not popping in.
About this article: I only write about places and things I actually really like. Should I receive complimentary meals/tickets/diamonds, this will always be revealed. I'm not in the rubbishing business, so if something is not my cup of tea, I'll simply not write about it (but I'll keep the diamonds).