I've heard plenty about the apparent nesting instincts of pregnant women. Now given that the closest I've ever come to pregnant, is a 'pregnant pause', I'm hardly in a position to comment on its veracity. What I do know is that, come 1 March, a switch is magically flipped and I start gearing up for full-on nesting.
After months of being interested in sorbets and chilled fruit and braaiing my little heart out, I suddenly start fantasizing about pies, stews, crumbles and cobblers. I repack cupboards (don't ask), and I start eyeing my fireplace. I know it's too early. Way too early. I'm writing this sitting in 27-degree heat, wearing shorts (it's not pretty). But I just can't help it. So… what to eat?
Salad comes to mind – but I want something richer, more filling and altogether more comforting than what I've been scoffing for the last five months. And then I had a 'Scandinavian moment'.
This did not involve a six-foot blonde bloke named Sven. But it did involve gorgeous, rich mackerel, earthy beetroot, fresh dill and just a touch of sour cream – Sweden on a plate. I wolfed it down with some seriously dark rye and I was in Nordic heaven – sadly without Sven.
All you need is…
peppered, smoked mackerel
bunch of beetroot
radishes
dill
red onion
micro leaves
sour cream
black pepper
lemon
extra dark rye bread
You can buy ready-cooked beetroot, but it's ridiculously pricey. Rather go for fresh and simply boil them (in their skins) until soft. Alternately, you can roast them in the oven but, to be honest, that's a bit of a pain for an instant-results kinda chick like me.
Peel the beetroot and slice them any way you want. You can go all chunky and rustic or go the girlie route, like I did, by slicing everything paper thin with a mandolin. (HOT TIP: Dunk the radish slivers in ice water for a few minutes – it makes them super crunchy!)
Arrange all the veggies and flaked mackerel on a lovely plate, drizzle with lemon juice (it doesn't need olive oil as the mackerel is so oily) and finish with a generous grinding of black pepper. A dollop of sour cream on the side and you're done.
I just love, love, love balancing this rich, satisfying dish with extra dark rye bread (I tried Oldenburger dark rye which I found at Checkers and it was perfect.)
tips, tricks and trivia
Out, out damned spot!
Many folks don surgical gloves when they work with beetroot. Now I'm not saying that's wrong, but an over eagerness to snap on the old latex always makes me wonder a bit about people. I just go for it, and get rid of red beetroot palms in a nanosecond with a brisk scrub with lemon juice and coarse salt. Works every time.
enjoy with
Oily fish like mackerel love a white. The sharpness of a Sauvignon Blanc is a good partner. Smoked mackerel also loves a Chardonnay with a hint of oak. My choice with this is Asara's 2012 Vineyard Collection Chardonnay.
It's rich and creamy with very subtle oak notes. The current estate price is R70 a bottle.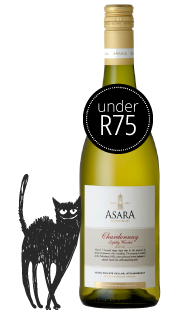 Print this recipe