When was the last time you did something for the first time?
This was the question posed by some TV ad a while ago. I can't for the life of me remember what they were trying to tempt me with. It may have been timeshare in Kazakhstan or ointment for an embarrassing rash. Who knows. The brand didn't stand out, but the words did make me pause.
When exactly was the last time I did something for the first time? Well, all the time actually. Because I just love putting on my apron and heading for the kitchen to mess about with interesting new food combinations. Sometimes it's an epic fail, but mostly it's not. And then I do my new-recipe happy dance. It's not pretty. Never mind last in line, I wasn't even in the queue the day rhythm was handed out. I figure that's OK though, as my audience is mostly limited to Merlot. This recipe is one of those that had me trampling about the kitchen like a stunned baby water buffalo.
I love croissants, especially almond ones, but they're a serious commitment – halfway through I grind to a halt, and I'm not what one would call a small eater.
This lead to one of my 'what-if' kitchen moments. What if I make a milk tart filling and flavour it the way my mum used to, with just a few drops of almond essence? What if I stick some Woolies mini croissants in the oven and stuff them to the brim with the milk tart filling the minute they come out? And what if I dust them liberally with cinnamon, as befits any halfway decent milk tart?
So I did just that, and I loved it. Perfect, bite-sized, flaky, creamy, dreamy milk tart mouthfuls – way less trouble than a traditional milk tart and just as nice.
Here's wishing you a fabulous 2014, filled with first-time experiences – both in the kitchen and out.
All you need is…
This filling is sufficient for 8 mini croissants.
half a cup of sugar
half a cup of plain cake flour
2 large eggs
2 cups of milk
1 tbs butter
pinch of salt
almond essence
cinnamon
icing sugar
8 par-baked mini croissants (Woolworths has)
Mix the flour and sugar, add the eggs and whisk until smooth. Gradually add the milk whilst whisking. Add a pinch of salt. Place mixture in a thick-bottomed saucepan over a medium-low heat and dot over the butter. Bring to a boil and cook until the mixture is thick and the flour cooked (about ten minutes), stirring continuously.
Add a few drops of almond essence (it's strong, so be conservative and taste). Remove from the heat and allow it to cool to room temperature. Bake the croissants according to the packet instructions. Slice open and fill with the milk tart mixture. Be generous! (I find a piping bag makes it easier.) Dust with loads of cinnamon and just a touch of icing sugar for the pretty.
good to know
Milk tart phyllo stacks
Brush 3-4 sheets of phyllo pastry with melted butter and place one on top of the other to form one thicker sheet. Cut in smallish squares (5cm x 5cm) and bake according to the package instructions until crisp and golden.
Place one phyllo square on a plate, top with some milk tart filling (it's prettier if you pipe it), place another square on it, more milk tart filling and finally one last square on top. Dust generously with cinnamon and a pinch of icing sugar and serve immediately.
enjoy with
These milk tart croissants go down a treat with a decent cup of coffee. Not chicory, the real deal – beans that you preferably grind yourself. Checkers stocks a range of coffee beans from various countries and it's excellent value for money.
Or try this one from Vida, it's available at their branches.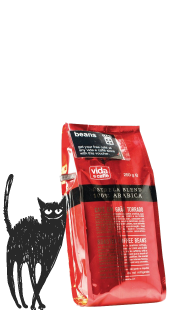 Print this recipe