Situated in the Knorhoek Valley at the foot of the Simonsberg mountain, a mere 10km outside of Stellenbosch, you'll find Muratie – a wine estate with a history and heritage that's quite unusual.
The story of Muratie is essentially a love story. One that goes back many years – all the way back to 1685, when the then Governor of the Cape of Hood Hope, Simon Van der Stel, granted the undeveloped land to one Laurens Campher.
Laurens fell in love with a slave, Ansela van de Caab (meaning Ansela from the Cape). Due to her status, marriage was out of the question. But Laurens was steadfast – for fourteen long years he regularly tackled the 3-day walk to Cape Town to see the love of his life. When Ansela was eventually granted her freedom, Laurens whipped her off to Muratie where he'd built her a house – a long low structure consisting of one bedroom, a kitchen and one stable. This building still stands at Muratie.
It's called MOK (an abbreviation of the Afrikaans words 'modern kontemporêr', meaning modern contemporary) and now it's the venue for modern art exhibitions. Walking through it is strangely eerie, in a good way – one can almost hear the echoes of the past.
MOK art gallery: Dating back to 1685, this is the house that Laurens built for his Ansela.
A deep appreciation for the estate's heritage and a desire to preserve it underscores everything the current owners, the Melck family, do. The Melcks have a long history with Muratie. The first Melck at Muratie, Martin, took over in 1763. The farm was in the Melck family for over a century before it passed to a string of different owners. But in 1987 the Melck descendants had the opportunity to acquire it once again.
Muratie used to be synonymous with Port-style wines, but over the years this estate has evolved, and today they make award-winning wines across the spectrum. I hadn't been for a while, so I was delighted to receive a wine media invitation to come visit.
The Melcks of Muratie: Rijk and Kim with their precious Saartjie.
We enjoyed a delightful glass of Lady Alice Pinot Noir Cap Classique outside MOK Art Gallery before we headed for the Farm Kitchen terrace where we tasted their whites and reds, including their 2017 Ansela van de Caab Bordeaux-style blend which scored 5 stars in the 2021 Platter guide.
Towered over by giant ancient trees, the Farm Kitchen terrace is the perfect spot to tuck into breakfast or enjoy a leisurely lunch with a bottle or two of their excellent wine. Apart from the expected cheese or cheese and charcuterie platters, there's a wide choice of international-style dishes like squid ink risotto, oven-baked Norwegian salmon with a black bean and lentil salad, and slow-roasted pork belly with honey squash puree, pickled red cabbage and smoked apple cream. But what really gets me excited are the more traditional South African options like smoked springbok carpaccio, Karoo lamb shank and even lightly curried afval made from Karoo lamb.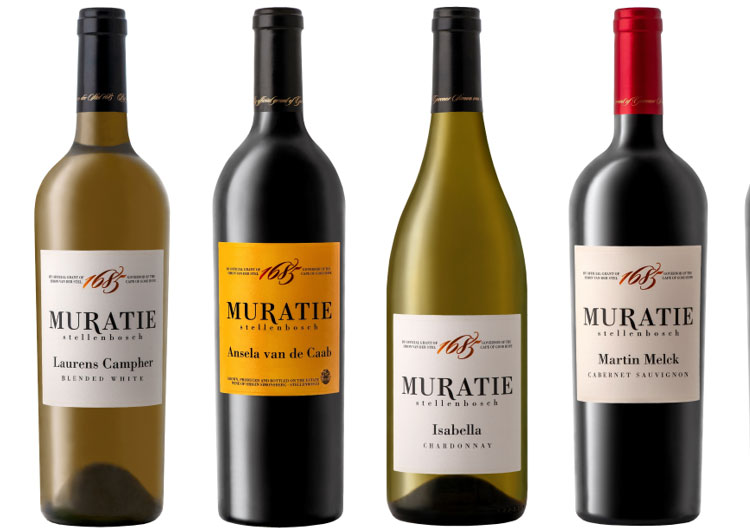 There are various wine tasting options in Muratie's charmingly quirky ancient tasting room, where old family photos, portraits and memorabilia mix with cobwebs spun by the resident cellar spiders who, apparently, all have names. No worries, they stay well away from visitors! I didn't spy them at all – which I consider a good thing given my city girl insect issues.
Muratie is not just a fabulous place for tasting wine and having a meal. It is a brilliant venue for weddings and any other special occasion. There's the 200 square metre terrace framed by ancient oaks, the lush gardens with ample shade provided by their venerable camphor trees or their latest edition, the 625 square metre marquee with its breathtaking views over Muratie's vineyards, the Simonsberg, and Table Mountain in the distance.
The marquee: Seating up to 350 people, Muratie's marquee has stupendous views over Table Mountain in the distance. This the place to create your dream wedding.
Getting to Muratie is quick and easy. If you're heading out of Cape Town on the N1, just take the R44 off-ramp in the direction of Stellenbosch and watch out for the Muratie signs. In a world of shiny, new-build tasting centres, Muratie is truly something special. I'm probably being fanciful, but somehow wines seem to taste just a little bit extra special when experienced in a place that traces its beginnings back to a grand love over three hundred years ago.
About this article: I only write about places and things I actually really like. Should I receive complimentary meals/tickets/diamonds, this will always be revealed. I'm not in the rubbishing business, so if something is not my cup of tea, I'll simply not write about it (but I'll keep the diamonds). Therefore this is not so much a review, as a personal recommendation of places and things I like.

Print this recipe